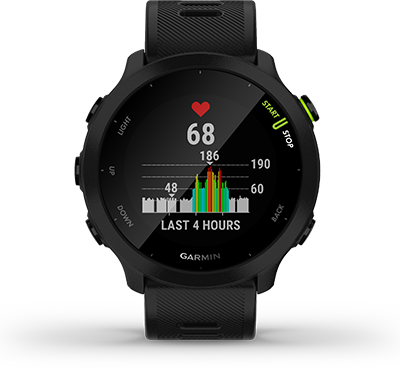 WRIST-BASED HEART RATE
Get heart rate data1 along with alerts if your heart rate stays high while you're at rest. Even gauge how hard your heart is working during activities.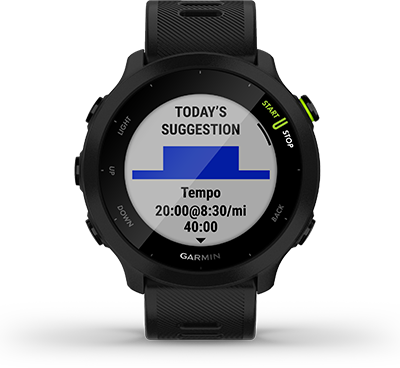 DAILY SUGGESTED WORKOUTS
For personalized training guidance, get daily run recommendations of varying intensities based on your training history, fitness level and recovery time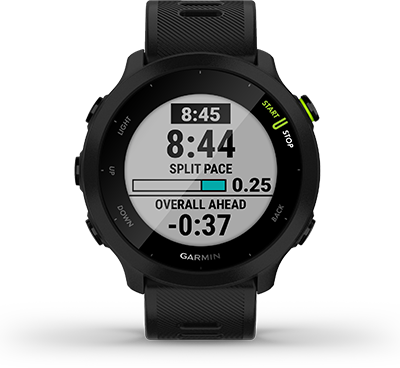 PACEPRO™ TECHNOLOGY
To help you plan your race day strategy, this feature offers GPS-based pace guidance for a selected course or distance in the Garmin Connect app. So you can tailor your efforts to what's ahead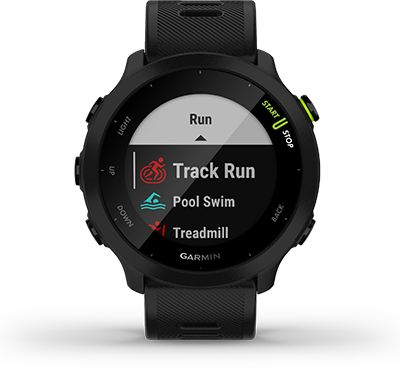 TRACK RUN
When you're ready to hit the track for some speedwork, use the built-in track run activity to record accurate lap distances and see your distances in meters.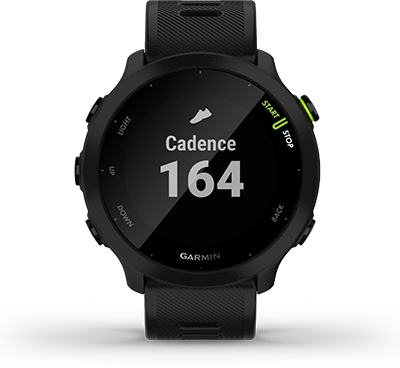 CADENCE ALERTS
Want to improve your running form? Use the cadence alerts to know when you've gone outside your target cadence range.
RACE PREDICTOR
This specialized tool takes into account your fitness level and training history to help you work toward your race goal and see the impact of training on your predicted finish time.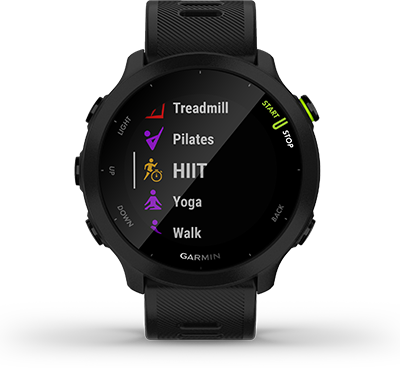 BUILT-IN SPORTS APPS
Switch up your workout routine with activity profiles for track or virtual running, pool swimming, Pilates, HIIT and even breathwork.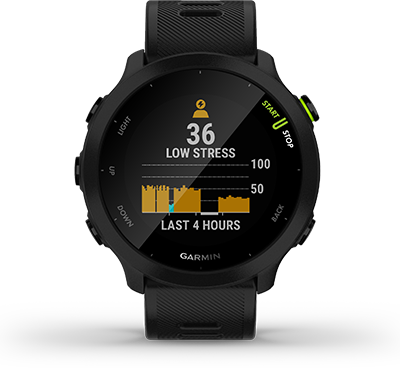 STRESS TRACKING
Find out if you're having a calm, balanced or stressful day. Relax reminders will even prompt you to do a short breathing activity.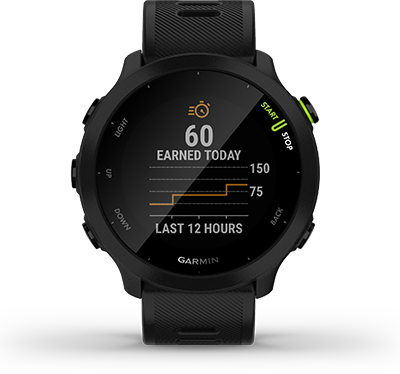 INTENSITY MINUTES
See when during the day you earned intensity minutes from moderate and vigorous physical activity.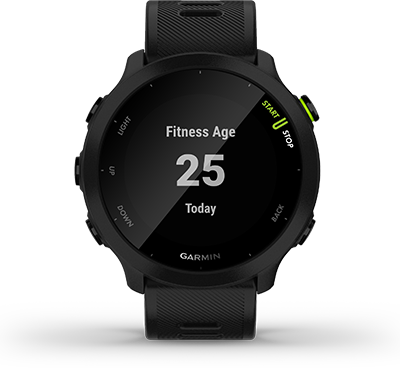 FITNESS AGE
This feature uses chronological age, resting heart rate and other factors to estimate if your body is younger or older than you are. Age is just a number, after all.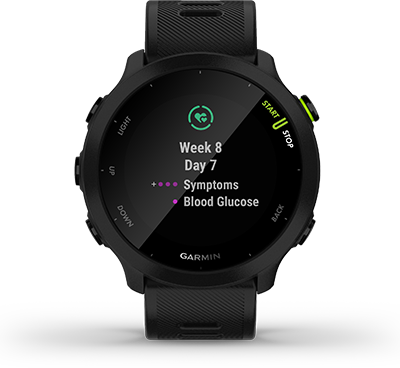 WOMEN'S HEALTH TRACKING
Use the Garmin Connect app2 to track your menstrual cycle or pregnancy. Log symptoms, get exercise and nutrition education, and more.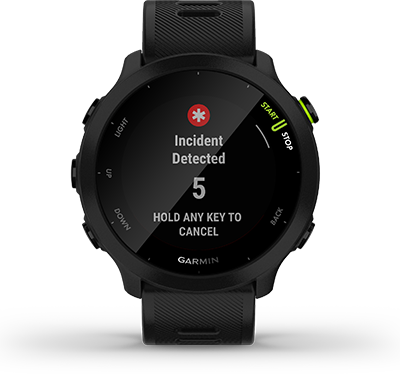 SAFETY AND TRACKING FEATURES
If you feel unsafe or if your watch senses that an incident occurred, assistance and incident detection features3 can send a message with your location to emergency contacts
Change things up with HIIT and breathwork activity profiles. Advanced wellness tracking features, such as all-day respiration monitoring, intensity minutes, and more, put you in tune with your body. Get more runs in between charges, thanks to this watch's longer battery life, and make it truly your own by downloading watch faces, apps, and more from the Connect IQ™ Store (requires Garmin Connect™ app and Connect IQ™ app loaded on a compatible smartphone).

• Easy-to-use running watch monitors heart rate (this is not a medical device) at the wrist and uses GPS to track how far, how fast and where you've run
• Take the guesswork out of training with suggested workouts of varying intensities based on your training history, fitness level, and recovery time
• Plan your race day strategy with the PacePro™ feature (not compatible with on-device courses), which offers GPS-based pace guidance for a selected course or distance
• Run your best with helpful training tools, including race time predictions and finish time estimates
• Track all the ways you move with built-in activity profiles for running, cycling, track run, virtual run, pool swim, Pilates, HIIT, breathwork and more
• Tune in to your body with advanced wellness features, such as intensity minutes, fitness age, all-day respiration and more
• Customize your watch with free watch faces, data fields, apps and widgets from the Connect IQ™ Store (requires Garmin Connect™ app and Connect IQ™ app loaded on a compatible smartphone)
• Battery life: up to 2 weeks in smartwatch mode; up to 20 hours in GPS mode
In the Box
Garmin Forerunner 55 GPS Watch
Charging/data cable
Documentation
⚠ Ca Residents: Proposition 65 warning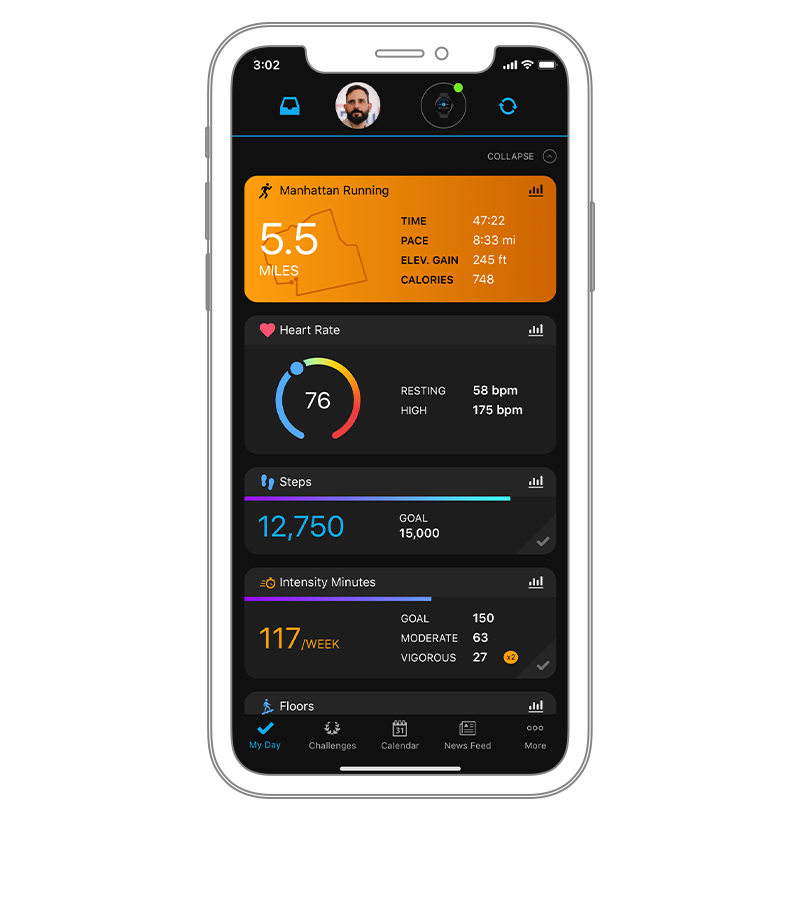 AT-A-GLANCE DATA
Colorful activity cards let you see all your vital statistics. Different colors represent each activity, so you always know exactly what you're looking at. Tap in for more detailed information.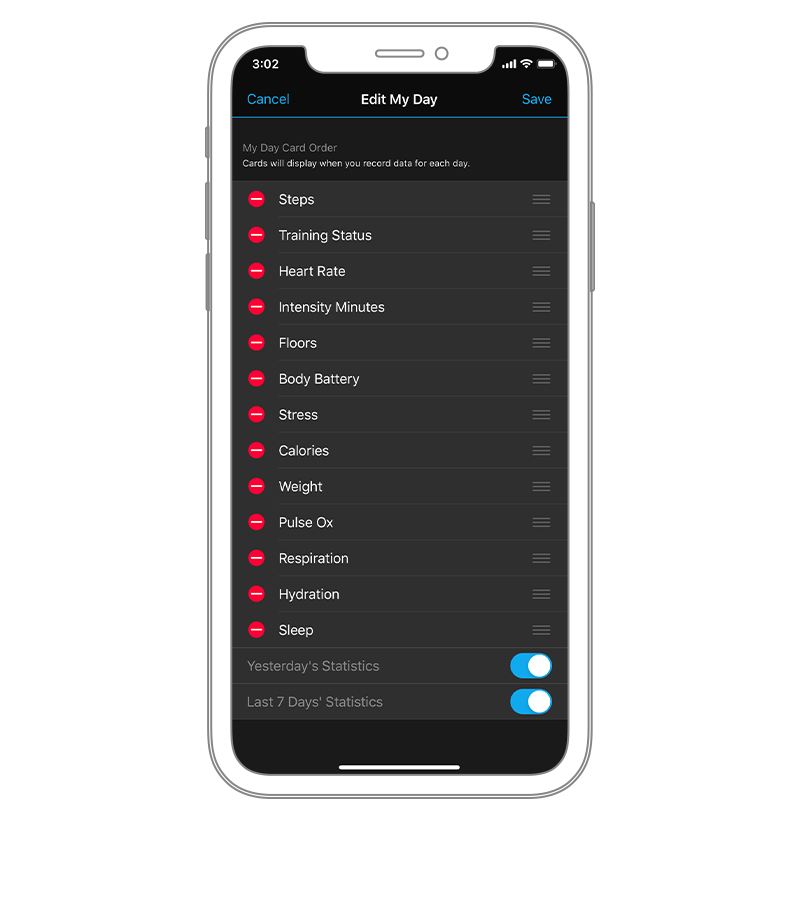 CUSTOM DASHBOARD
Garmin Connect is all about your experience and your goals. Customize the cards you want to appear on your "My Day" dashboard.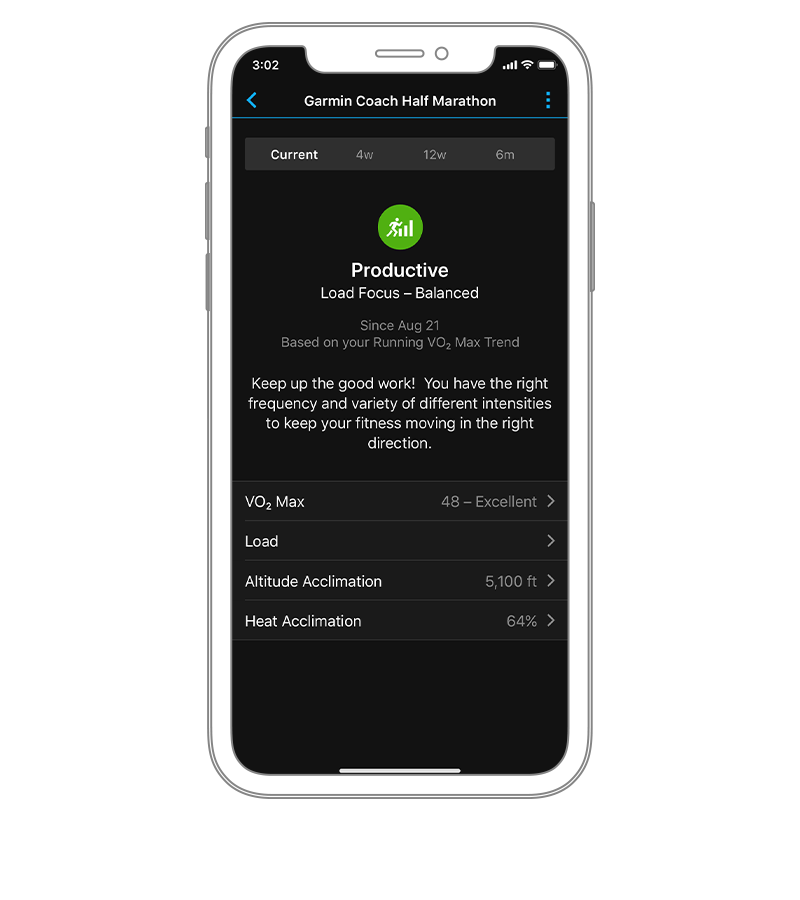 PERFORMANCE STATS
Whatever your device tracks, view it here. Monitor everything from your training status and VO2 max to functional threshold power and more to help you beat your goals.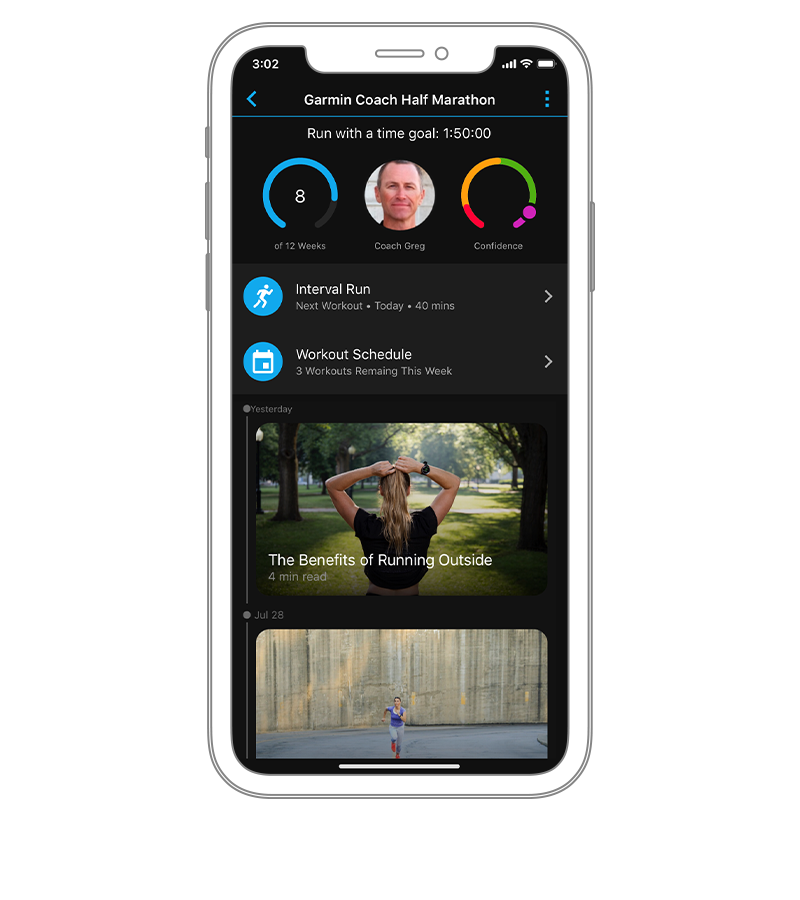 GARMIN COACH
Train for a 5K, 10K or half-marathon race with free expert coaching and a dynamic training plan that shifts, based on your goals and performance. Workouts sync right to your watch.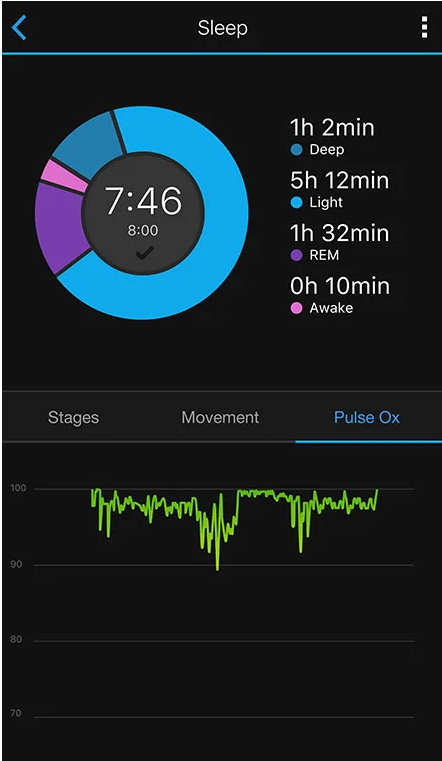 Pulse Ox at Your Wrist - App View
The Pulse Ox sensor on Venu estimates your body's blood oxygen saturation level. Your Pulse Ox measurements are dependent upon a number of factors, including your overall health and fitness. Checking your Pulse Ox can help gauge how your body is absorbing oxygen. Turn on the feature to gauge your SpO2 overnight, or use it to take a spot measurement anytime to learn more about your body.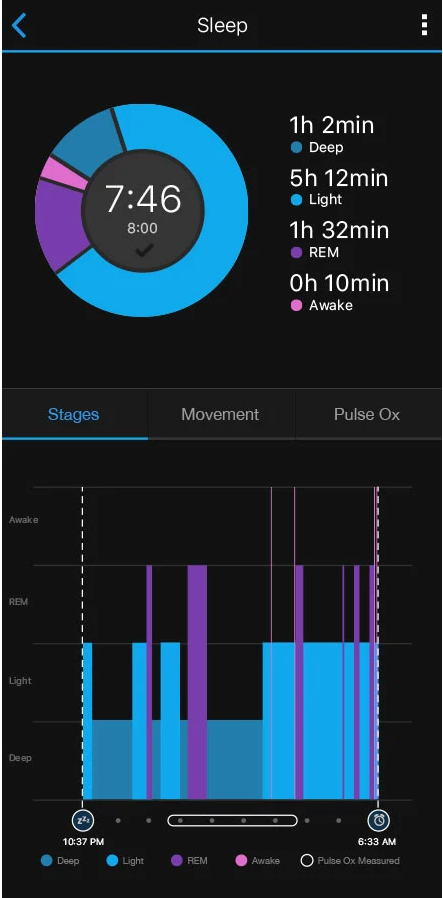 Advanced Sleep Monitoring - App View
Sleep is important to your overall health, well-being and physical performance. To give you an idea of how you're sleeping, Venu tracks your light, deep and REM stages of sleep, along with movement throughout the night. For added insight, turn on the Pulse Ox feature to view your blood oxygen levels during your sleep. When you wake up, you can easily review and compare your sleep stats in Garmin Connect App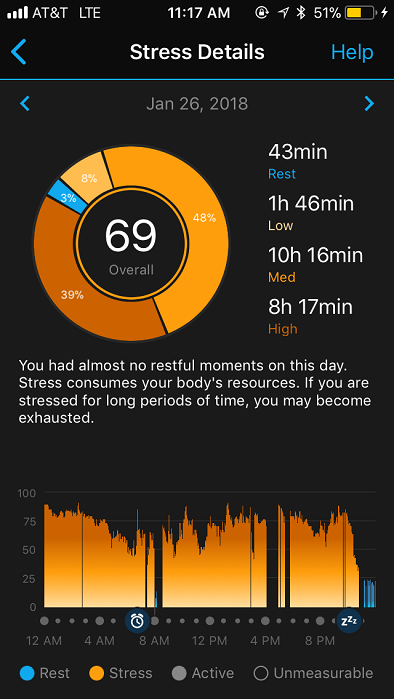 All-day Stress Tracking - App View
You most likely experience stress at some point in your day, but how much? Your Venu lets you know when you are having a calm, balanced or stressful day and everything in between. Tracking your HRV (the time interval between each heartbeat), Venu calculates and displays your stress level. There's also an optional 'Relax Reminder' feature that you can turn on in the Garmin Connect app. If your stress level gets elevated during your day, it will provide a vibration alert on your wrist and display a message ("Take a moment to breathe?") to let you know it's time to relax.