Track your Activity in 2021
Garmin Enduro GPS Ultra Multi Sport Watch
Features
• Power Glass™ solar charging lens harvests the sun's energy, giving you more power and time between charges
• Power manager and battery saver modes allow you to toggle sensors on and off to extend battery life on the run
• Trail run VO2 max tracks your cardiovascular fitness level and adjusts based on trail conditions
• Ultrarun activity with rest timer allows you to log your time spent at aid stations
• ClimbPro trail enhancements gives you information for descents and flats — for additional safety and awareness
• Use run/walk detection to review after training sessions or races where on course you walked, such as steep climbs
• Navigate in even the most challenging environments with multi-GNSS support (GPS, GLONASS and Galileo) and barometric altimeter and compass
• Battery performance with solar charging: up to 65 days in smartwatch mode (all-day wear, 3 hours per day outside in 50,000 lux conditions), up to 80 hours in GPS mode (assumes continuous use for entire period in 50,000 lux conditions) and up to1 year in battery saver mode (all-day wear, 3 hours per day outside in 50,000 lux conditions)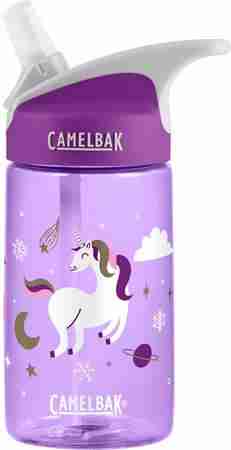 Reduce Plastic. Protect The Planet.
#1 Best Selling Water Bottle
Bottle Material: BPA-Free Eastman Tritan Copolyester. Tritan makes the eddy clear, vibrant, durable, dishwasher safe and 100% BPA-Free.
12oz capacity, 0.4L
Spill Proof - Flip, Bite, and Sip. No tipping required (though possible: just remove the straw)
"I ordered 7 Cambelback kids water bottles because my daycare said my son was trying to take this bottle from another child and not wanting to use the cups they provided. Initially I was only going to buy a couple, but ended up getting 7 because their price was more than half of what other retailers were selling them for. On top of that, the estimated arrival date was the next week which would have been totally fine. They ended up being delivered the very next day! I'm more than happy posting this glowing review as they far exceeded all my expectations!"
---M M.
"Shipping arrived faster than I thought even with free shipping. Item received in well packaged. I happened to catch the sale of the product that I wanted. So the price is good. Heart Rate Monitors USA always sell a brand new and a product that works right out the box. I've never return anything that I bought from them."
--N H.