If you want to measure your heart rate as comfortably as possible The Polar Soft strap is the chest strap you need for your Polar Heart Rate Monitor.
The smart fusion of soft fabrics and adaptive electrodes make it extremely sensitive to your heart's electrical signals, so the heart rate sensor can pick up your heart rate quicker and more accurately.
Compatible With the following Transmitters (sold separately)
Polar Wearlink
Polar Nike +
Polar H6
Polar H7
Polar WIND
Polar Bluetooth
Polar H1
Polar H2
Polar H3
Polar H10
Polar H9
Measurement of Strap Size should be taken right below the pectoral muscles or breasts. Straps may be in bulk packaging.
M/XXL - 30-45 Inches
XS/S- 20-30 Inches
Polar H1, H2, H3 and Polar H7 heart rate sensors have two parts: the chest strap & the connector. The heart rate sensor is worn around your chest, just below chest muscles.


Wear the heart rate sensor
1a. Moisten the plastic electrode areas on the reverse side of the strap.

1b. If the strap has textile electrodes, wet them under running water.

2. Attach the connector to the strap. Adjust the strap length to fit tightly but comfortably around your chest.

3. Tie the strap around your chest, just below the chest muscles, and attach the hook to the other end of the strap.

4. To ensure good heart rate signal detection, check that the moist electrode areas are firmly against your skin and that the Polar logo of the connector is in a central and upright position.
⚠ Ca Residents: Click here for Proposition 65 warning
Tired of the Chest Strap? Check out what's new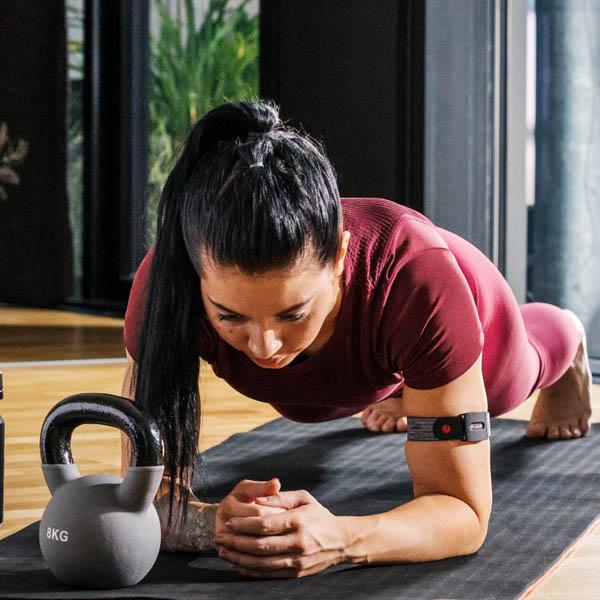 Polar Verity Sense Optical Heart Rate Sensor
Wear on Arm or Temple, - or Anywhere that suits your Sport

Chargeable battery & Waterproof (50 m)
Long battery life: 24 hours on a single charge
Internal memory: 16 MB, 600 hours of training time
Works with all Polar Bluetooth® devices, most sports and smart watches, Polar Flow and many other fitness apps
Works with ANT+ devices such as gym equipment and cycling computers