Fitbit Flex Wireless Activity and Sleep Tracker
Fitbit Flex Wireless Activity and Sleep Tracker
has a rating of
4.5
stars based on
38
reviews.
By Fitbit
Never stop moving with Fitbit Flex. Reach your goals 24 hours a day. 
Flex is your perfect companion. Wear it on your wrist day and night and it will track all of your activity. Just check out the lights to see how you stack up against your personal goals. It's the motivation you need to get out and be more active.
Goals and Tracking
Flex uses LED lights to show you how you're stacking up against your daily goal. Each light represents 20% of your goal. You choose which one steps, calories, or distance. It lights up like a scoreboard, giving you the motivation you need to get up and keep moving. Just check your stats right on your phone.
Wireless Sync
Flex syncs your info to select Bluetooth 4.0 devices, without plugging in or pushing buttons. It also syncs with select Android devices (Samsung Galaxy S III, Note II, and more), as well iOS devices (iPhone 6, 5, 4S, iPad 3rd gen., iPad Mini, and more) and PCs and Macs. This gives you real-time access to your stats on the Fitbit dashboard throughout the day. Plus, with select NFC-enabled Android phones, simply tap your device to launch your Fitbit stats. Check here for availability IOS   Android   Windows Phone
The Fitbit mobile app works with all smartphones for logging data, receiving notifications, and viewing graphs and charts based on your last sync.
Dashboard
Flex comes with an arsenal of free online tools. Set goals on your personal dashboard and follow your progress through engaging graphs and charts. Use the Fitbit App for iPhone and Android to track steps, distance, calories, active minutes, and sleep, and receive goal progress notifications and milestone updates.
Compatibility
Flex syncs with popular fitness apps for an integrated fitness regiment. Apps include Sparkpeople, LoseIt!, MyFitnessPal, MapMyFitness, Runkeeper, and Endomondo.
Badges
Flex keeps you motivated and helps you reach and celebrate milestones by awarding badges as you reach daily and lifetime achievements and goals.
Community
Enlist your friends and family in helping you reach your goals by sharing your stats, creating fitness challenges, and taking a group leader board challenge.
Logging
Log food consumption, weight, and weight changes, and additional workout info on the website and on the go using the Fitbit App for iPhone and Android.
Wear It All the Time
Flex never leaves your side - you can even wear it in the shower. Wear the comfortable wristband all day and night, and it will even track how long and how well you sleep. Online tools illustrate your deep sleep and wakeful patterns. Silent Wake technology wakes you with a gentle vibration at a desired time without an alarm or disturbing your partner.
What's In The Box
Flex Tracker
Large and Small Bands
Charging Cable
Wireless Sync Dongle
Free Fitbit Account
Tracks steps, distance, calories burned, and active minutes
Log food, weight, and more on Fitbit's website or apps
Monitors how long and how well you sleep
Wakes you (not your partner) with a silent wake alarm
LED lights show how your day is stacking up against your goal
Set goals, view progress, and earn badges
Share and compete with friends throughout the day
Syncs automatically with select mobile devices and to your computer
Free iPhone and Android App
Instantly launch your Fitbit app by tapping your device with your NFC-enabled Android phone
Easy-to-wear, slim, comfortable wristband
Accessory bands allow you to personalize your Flex
Wear all day and night - even in the shower
Rechargeable battery
Sizing
The Flex wristband is sold with both small and large wristbands included.
FLEX
SIZING CHART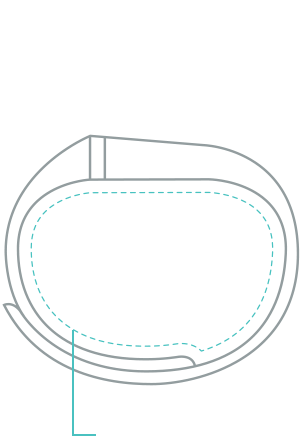 SMALL: Fits wrists 5.5" - 6.5"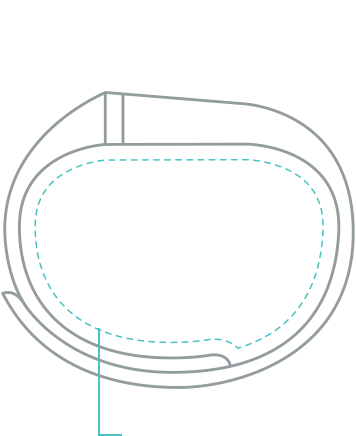 LARGE: Fits wrists 6.5" - 7.9"
0.6"
Flex includes both small and large wristband
DOWNLOAD THE FLEX SIZING TOOL
Easy Return Policy
If, for whatever reason, you are not satisfied with your purchase, you can return it to HRM USA within 45 days of purchase date subject to conditions below. Claims for items damaged in transit must be received within (3) business days of receipt of merchandise. Items deemed defective by manufacturer standards must be reported within 7 days of receipt.
Refunds & Credits Refunds on returned items will be issued to the same payment as tendered at the time of purchase. Once we receive and inspect the product you will be issued a credit back to your account. Please allow 5-7 Business days for a credit to appear on your account. If payment was made by check, the refund check will not be issued within 7- 10 business days after receipt of return.
Easy Return Process
Please be sure to place a note in the package with this information:
1) Order number
2) Reason for return
3) State that you would like a refund, or an exchange and what you would like to exchange for.
Our return address is:
HRM USA INC
Attn: Return Dept
1044 Pulinski Rd.
Warminster, Pa 18974
Or log in to your account by clicking here, and process your return online.
No Return/Exchange on the following:
– Hydration Packs, Water Bottles once any of the packaging has been opened or safety seals have have been broken.
– Computers and Computer Software, once any of the manufacturer's packaging has been opened.
– Heating Pads, once safety seal has been broken
– Electronic Software is not returnable or refundable once opened.
– All consumable items or hygienic items (e.g., Gels, Energy Chomps, Elixirs, etc.) once unwrapped or seal broken.
– Special Order merchandise, Clearance, or any itemindicated on the website as non-returnable.
– Imprinted products.
– HRM USA Stores Gift Cards are redeemable for merchandise only and may not be redeemed for cash.
Exchanges
If the item is returned to us for exchange, please allow 2-5 business days for the replacement to be processed and shipped. All returns are shipped with our Economy shipping method and arrive within 2-10 Days.
Conditions
Please read all conditions below. If conditions are not met, HRM USA reserves the right to refuse the return or to charge a restocking fee not less than 10% or a $2.95 minimum restocking fee charge.
If using a shipping label generated by HRMUSA Inc, the cost of this label will be deducted from refund amount (unless product is defective).
All returned items must be in new condition, in their original unaltered box (including the UPC code being intact) and must include all packing material, blank warranty cards, manuals,and accessories. Defective items may be exchanged for the same model or manufacturer's equivalent model. Please call us at 800-403-8285 for assistance. Please allow time to discuss any issues you may be experiencing as we may recommend tech support to resolve any issues prior to exchange. Any refused package will be assessed shipping charges incurred by the carrier.
Click Here for a list of Manufacturers Tech Support Phone Numbers