Polar Vantage V2 allows you to really get under the skin of who you are. This waterproof multisport GPS watch comes with all of Polar's sports expertise in one package, including wrist-based heart rate, GPS, performance tests, and recovery tracking.
THE ULTIMATE TRAINING PLATFORM
With extensive training planning and analysis tools, an automatic training diary, progress reports and much more, Polar Flow will help you achieve all your training goals
Train smarter, sleep better, and find the balance in your life with the new Polar Unite fitness watch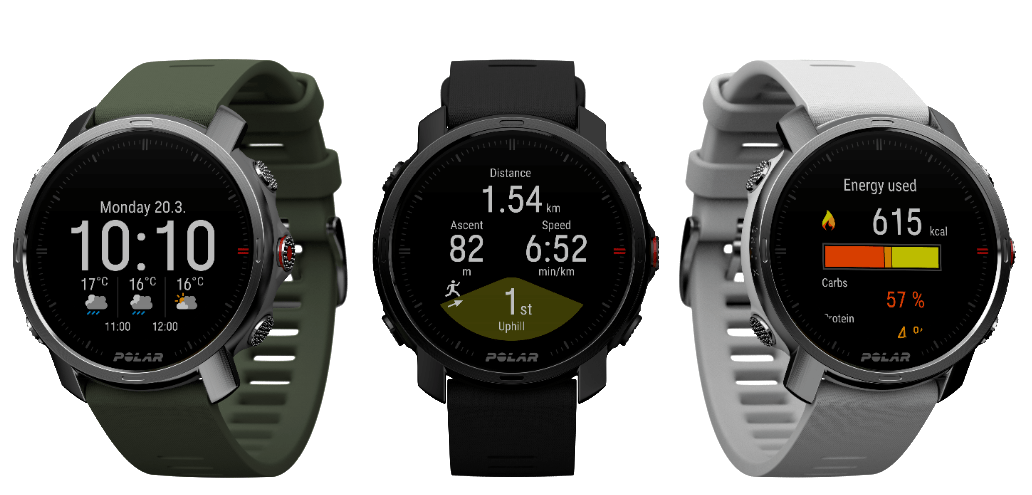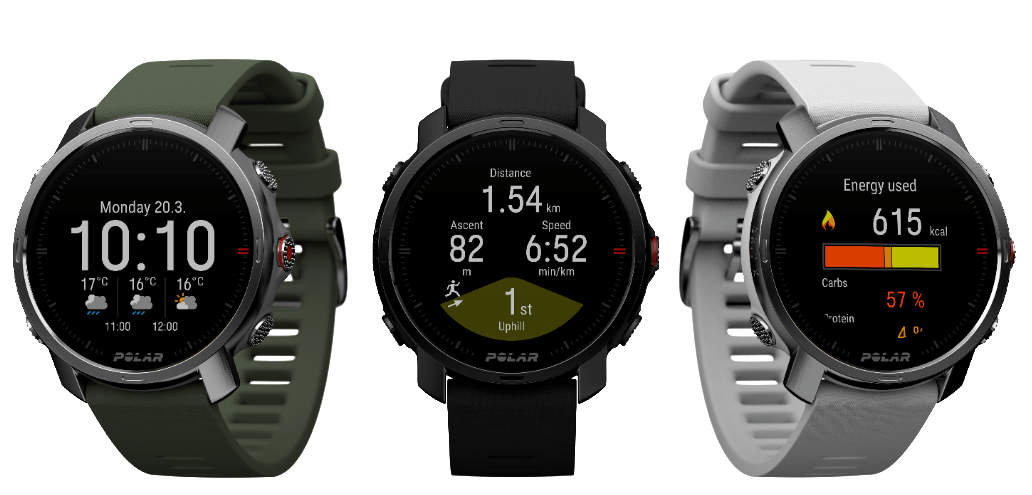 OUTDOOR MULTISPORT WATCH WITH GPS AND ALL ESSENTIAL TRAINING 
The Polar Grit X outdoor multisport watch is an uncompromising combination of rugged and durable, yet lightweight design, top training features and the possibilities of Polar Flow, the ultimate training platform.
Polar Grit X comes with built-in GPS, compass and altimeter in training mode, and Polar's unique Smart Coaching features that make sure you're ready for your future adventures.
STYLE MEETS STRENGTH
When you're going further than anyone else, you need tools that last with you. Polar Grit X is designed to take you through even the roughest, most epic sessions without clashing with your everyday style.
MILITARY-LEVEL DURABILITY
Polar Grit X has passed several MIL-STD-810G tests, including extreme temperatures, drop and humidity.
LET NOTHING WEIGH YOU DOWN
At 64 grams, Polar Grit X is one of the lightest outdoor multisport watches out there.
DISCOVER THE ULTIMATE TRAINING PLATFORM
Polar Grit X goes hand in hand with Polar Flow, the app and web service that keeps all your training, activity and sleep data, plans and progress reports conveniently in one place and at hand whenever you need it.
PLAN AND ANALYZE
Make a training plan for a full season and keep track of your progress with the extensive analysis tools.
SYNC YOUR DATA TO OTHER SERVICES
With Polar Flow, you can automatically sync all your training data to other apps, such as Strava or TrainingPeaks.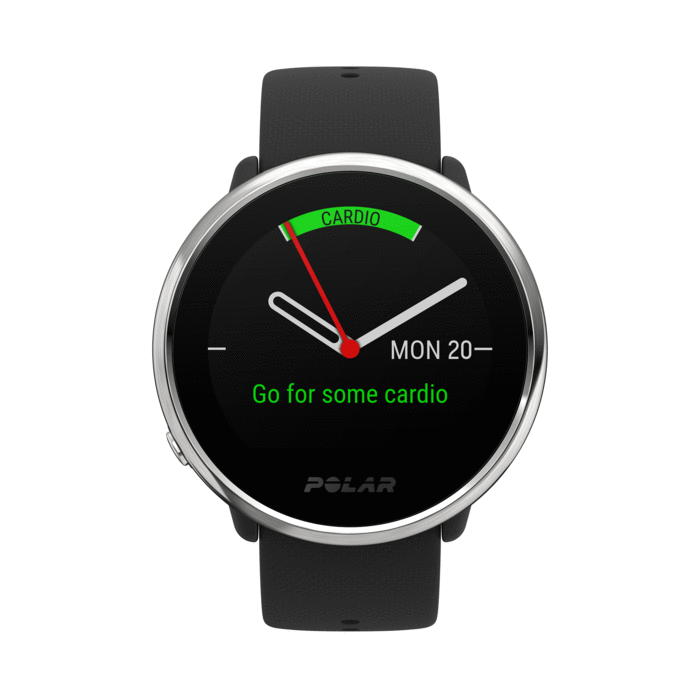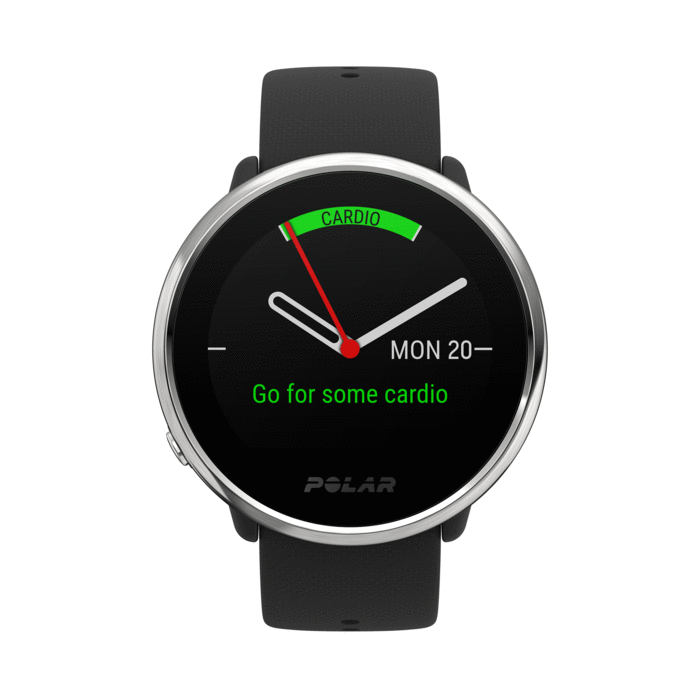 Designed from the outset as a true 24/7 device, the Polar Ignite's scientifically validated Smart Coaching features not only analyzes your exercise results but also interprets your recovery during the night allowing you to choose from ready-made exercise workouts the next day that matches your daily readiness.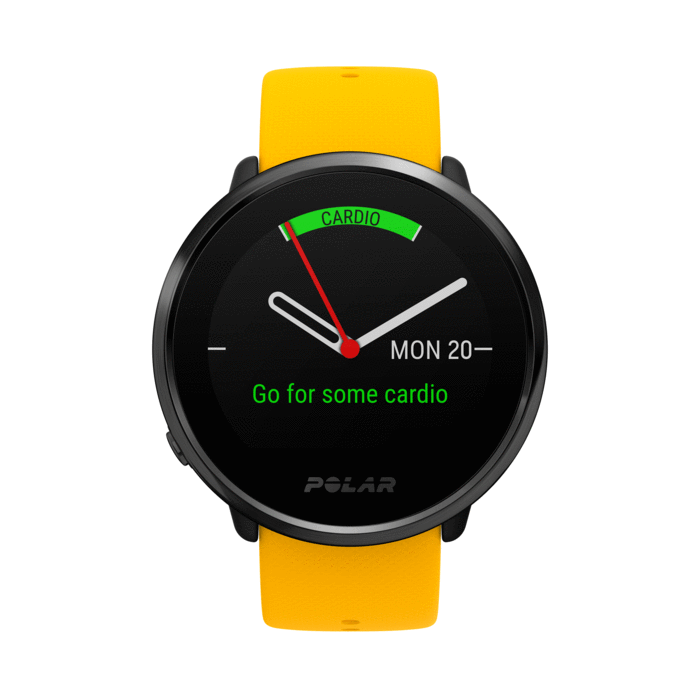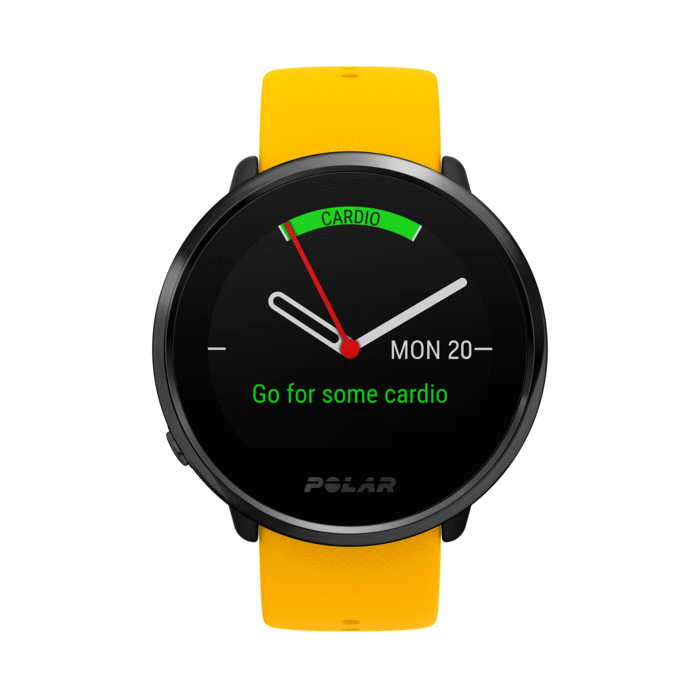 Polar Vantage V GPS Multi Sport
Looking for a GPS Trail Running Watch with up to 40 hours of Battery life in GPS Mode? Check out the Polar Vantage V. The Vantage V is the ultimate training tool for Ultra Runners, Multi Sport Athletes and Triathletes.
The Vantage V is designed for performance athletes who demand the very best, the Polar Vantage V is the most advanced performance watch ever made by Polar. With Running Power from the wrist (an industry first), next-generation optical heart rate technology and Polar's scientifically validated smart coaching features, the Polar Vantage V is the new gold standard for athletes.

Features:
Our Most Powerful GPS training watch
Ultra Long Battery Life – With up to 40 hours of training time with GPS active
Color Touch Screen – Clear, always on color touch display, 5 button interface when training.
Recovery Pro – Taking into account factors outside of training that can influence recovery, Recovery Pro provides a holistic view of not only what you've done, but tells you what to do next
Speed, distance and route tracking when running


The Differences Between Vantage V & Vantage M
Polar Vantage V offers a Barometer / Vantage M does not.
Vantage V has Recovery Pro  -  the new Recovery Pro™ feature—it helps you keep track of your recovery and prevent over training and injuries  
Polar Vantage V has 40 hours battery life  / Vantage M offers 30 hours battery life while in GPS Mode. 
Vantage V is a touch Screen / Vantage M is not
Polar Vantage V offers Running Power from the wrist, no additional sensors needed. Vantage M requires a 3rd party running sensor to measure the power. 
With the debut of the Vantage series, Polar introduces its new Precision Prime heart rate technology. As the only wrist-based heart rate solution on the market that utilizes both an optical sensor and bio-impedance technology, Polar Precision Prime overcomes erratic readings caused by movement. After your exercise session, get a more complete picture of your training effort with Polar's new Training Load Pro analysis. Delivering the tools you need to achieve your goals, the Vantage M not only provides the analysis you need but helps with the training choices you make.
Features:
The Vantage M offers up to 30 Hours of Battery Life in GPS Mode
Training Load Pro - Separating cardio load, muscle load* and perceived load, Polar's Training Load Pro provides an unparalleled look into how your training affects your body
Speed, distance and route tracking when running
Easily switch between sports and record transition time
Polar M430 GPS Multi Sport Watch
The Polar M430 offers state-of-the-art running metrics, advanced GPS to track your pace, speed and distance. The wrist based optical heart rate technology, Proprietary heart rate algorithm and 6 LED optical sensors built into the watch eliminate the need for the pesky chest strap.   Records your daily activities like steps, distance, calories burned, and sleep.  Built in sport watch features include interval timers, stopwatch, and finish time estimator. Capable of up to 30 hours of training time in GPS mode. 
Features
Wrist-Based Heart Rate: Display your current heart rate and what heart rate zone you're in, without a chest strap.
Integrated GPS: Speed, distance, pace and route tracking.
Mobile Connectivity: Seamless communication via Bluetooth Smart to Polar Flow app on your mobile device
Vibration Alerts: Be alerted with vibrating smart notifications of incoming calls, messages or during training and periods of inactivity.
Running Program: Whether training to set a personal best in a 5k or running your first marathon, set a race target and let our online program guide you towards your goal.
Running Index: Calculated after every run and based on your heart rate and speed data, Running Index allows one to see how efficient their running is.

Polar A370 Fitness Tracker
The Polar A370 is an updated version to the Polar A360. The A370 is an intelligent, powerful wrist-based fitness tracker with continuous heart rate readings without wearing a chest strap. You can even use the A370 as a heart rate sensor by pairing it to your favorite fitness app. The A370 utilizes your smartphone's GPS capabilities to provide you with critical data while you train. The sleep plus feature not only records your sleeping patterns but also detects when your sleep has been interrupted in order to provide you with more useful feedback. 
Features
Strapless Heart Rate Monitoring from the wrist.
A370 counts your steps and the distance you walk during the day. Your steps are estimated based on the frequency, intensity and regularity of your wrist movements.
Polar Sleep Plus sleep tracking and 24/7 activity tracking,
Smart Notifications: Get an alert whenever you receive a call or a text.
HR Transmitters
Polar's line or heart rate transmitters allow you to track your stats in real time on a Polar device, or any smart device using Bluetooth capability. 
WORKS WITH APPS, SPORTS WATCHES, BIKE COMPUTERS, AND GYM EQUIPMENT
Polar H9 is the ideal jack-of-all-trades heart rate sensor that connects to a large variety of devices. Thanks to Bluetooth, ANT+ and 5 kHz technologies, it's possible to connect to multiple devices at the same time.
TRAIN WITH POLAR BEAT OR OTHER FITNESS APPS
Polar Beat is one example of the multitude of fitness and training apps that you can connect your Polar H9 heart rate monitor with. Just choose the one that best fits your needs and turn your phone into a fitness tracker easily.
X-Small/Small fits chest circumference of 21.25 to 29.9 inches
Medium/XXL fits chest circumference of 29.9 to 37.4 inches
The Polar H1 Optical HR Sensor is the newest technology that is a great alternative to heart rate chest straps and wrist-based heart rate tracking that can record up to 200 hours of stand alone Heart Rate Data. 

Here are five things that make Polar OH1 a great choice:
Versatility: Polar OH1 is suitable for use in countless different sports. It can be used on its own, with Polar Beat (our free training app), with all Bluetooth / ANT + -compatible Polar sports watches and fitness trackers, with Bluetooth-compatible gym equipment and many popular fitness apps.
Diversity: Upper arm or forearm – you choose where to wear your Polar OH1.
Comfort: Not a chest strap fan? Polar OH1 fits securely and comfortably around your arm with a soft, machine-washable armband.
Accuracy: Polar OH1 tracks your heart rate with our proprietary 6 LED optical heart rate technology.
Simplicity: Polar OH1 is easy to put on when and where you want to.
Key Features:

Records 200 hours of stand alone Heart Rate Data
Polar OH1 tracks your heart rate with our proprietary 6 LED optical heart rate technology.
Works with Polar Bluetooth  & ANT + Devices & Fitness Apps
Lasts up to 12 Hours on a single charge.
Polar Equine Heart Rate Monitors and Accessories