6-MONTH PREMIUM MEMBERSHIP
Inspire 3 includes 6 months of Premium, giving you access to key features like Daily Readiness Score & Sleep Profile plus hundreds of workouts, meditation sessions, and more.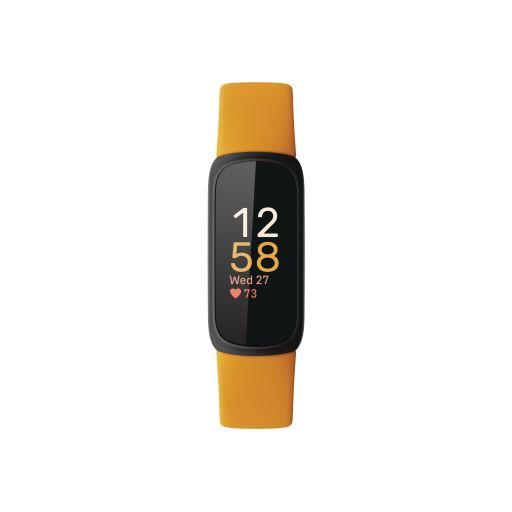 Move more
The best exercise is the one you already love, and if you're unsure whether to go hard today or take it easy, your Daily Readiness Score lets you know.
Stress less

Everyone feels stress—how you respond to it makes the difference. Stress Management Score and guided breathing sessions can teach you healthier ways to handle it all.
Sleep better

Better energy starts with better rest. Track your Sleep Score, light, deep & REM sleep, sleeping heart rate, and how consistent your schedule is. Your included Premium membership gives you access to your Sleep Profile—get matched with a sleep animal and see your personalized sleep analysis each month.
ALWAYS-ON WELLNESS TRACKING - Know your body better and do what's best by
watching for changes in your resting heart rate, blood oxygen, skin temperature & more.
DAILY READINESS SCORE PREMIUM - This score tells you if your body's ready for a
workout or needs recovery, so you can dial your exercise up or down.
STRESS MANAGEMENT SCORE - See how well your body is handling stress with
a daily personalized score. A high score means you're ready to tackle big things, while a low score is your body asking for some self-care.
UP TO 10 DAY BATTERY LIFE - Over a week of battery life for more go, more
flow, more whoa. Battery life varies with use & other factors.
SLEEP PROFILE PREMIUM - Get matched with a sleep animal and
see a personalized analysis of your sleep every month.
ACTIVE ZONE MINUTES - Tracks your heart rate to know when you're in fat
burn, cardio or peak zones and can adjust your effort to match your goals.
24/7 HEART RATE - Watching your heart rate during exercise lets
you know when you're in fat burn, cardio or peak zones so you can adjust your effort to
match your goals.
SLEEP SCORE - Wake up to a daily Sleep Score that shows how you slept last night. With Premium you'll see what impacts your score and whether you're not sleeping long enough or not getting enough restorative sleep.
MINDFULNESS SESSIONS - Fitbit's mindfulness sessions teach you healthier
ways to respond to stress so you feel cool, calm
and in control.
BLOOD OXYGEN (SPO2) - Track the oxygen level in your blood to help
you learn when there may be an indication of important changes in your well-being.
STEPS, DISTANCE & CALORIES - It doesn't matter what you're doing—if you're moving,
it's exercise. Inspire 3 tracks your steps, distance, calories burned & Active Zone Minutes 24/7.
IRREGULAR HEART RHYTHM NOTIFICATIONS - Check for signs of an irregular heart rhythm that may be atrial fibrillation (AFib), and share any notable results with your doctor.
RELAX BREATHING SESSIONS - The Relax app is like a mindfulness teacher
on your wrist—guiding you through calming breathing sessions so you can find your
happy place.
EXERCISE MODES + SMARTTRACK® - Choose from 20 exercise modes to get real-time
stats like pace and calorie burn during a workout. If you forget to hit start, no sweat—SmartTrack® automatically records common exercises.
HIGH & LOW HEART RATE NOTIFICATIONS - If your heart rate goes above or below your usual range while you're at rest, your Fitbit will send you a notification because it could mean something's up.
MENSTRUAL HEALTH TRACKING - Log periods, record symptoms, estimate
ovulation & find patterns in your cycle using Inspire 3 and the Fitbit app.

CALL & TEXT NOTIFICATIONS - Just glance down to see what's up. When your
phone's in your pocket, you can be more present. Works when the phone is nearby.
SWIMPROOF & COMFORTABLE - The super lightweight, swim-proof band hugs
your wrist naturally for comfort day & night.
WORKS WITH iOS & ANDROID - Compatible with most popular phones running
on the latest versions of Android and iOS. See fitbit.com/devices for more information.
CONNECTED GPS - Connect to your phone's GPS to see the pace and distance on your wrist during jogs, hikes, or bike rides and see a map of your effort post-workout.
Works when the phone is nearby.