Clinically accurate blood pressure designed for professional settings. High BP (Hypertension) affects nearly one third of Americans. Omron Healthcare made the 907XL, which is designed to reliably help physicians diagnose if a patient suffers from this condition.
In The Box
Blood Pressure Monitor

Cuffs (Extra-Large (17″ to 20″), Large (13″ to 17″), Medium (9″ to 13″), and Small (7″ to 9″)

Bladder Set

1.3m AirTube

ACAdapter

Battery Pack
Features
Display: Digital display

Measurement: Oscillometric method

Measurement Range: Pressure 0 to 299 mmHg

Pulse Rate: 30 to 199 beats/min

Accuracy: Pressure: Within ± 3mm H gor 2%

Pulse rate: Within ±5% of reading

Inflation: Automatic inflation with pumping

Deflation: Automatic deflation by electromagnetic control valve

Air Release: Automatic rapid air release by electromagnetic control valve

Pressure Detection: Electro static capacity semi-conductor pressure sensor

Power supply: AC Adapter (120VAC, 60Hz, 13VA) or (120VAC,50/60Hz,0.2A) Battery pack (4.8 VDC, 6W)

Electric Shock Protection Method: Class II B type

Operating Temperature: 50°F to 104°F (10 to 40°C)

Weight of Main Unit: Approx. 32oz (910g)

External Dimensions: Approx.51/2"(W) x8"(H) x51/6"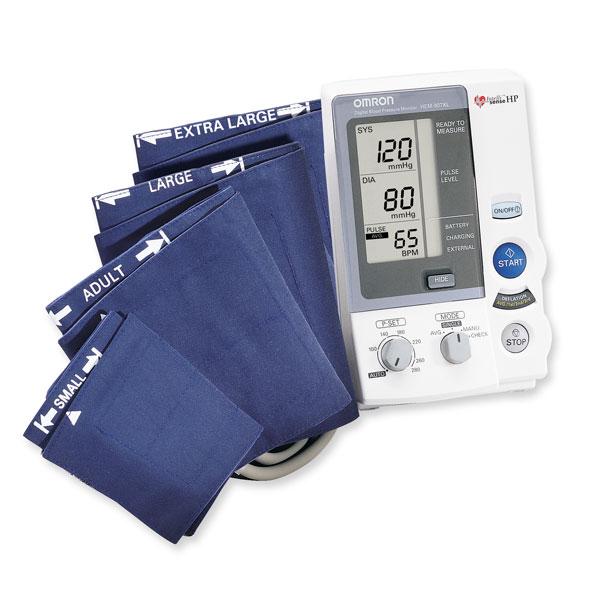 Limited Warranty
Your OMRON IntelliSense Automatic Blood Pressure Monitor is warranted to be free from manufacturing defects for a period of five years under normal use. The five year warranty excludes the monitor cuff. The cuff is warranted for a one year period. This warranty extends only to the original retail purchaser.