Garmin Vivosmart HR + GPS
vÍvosmart HR+   (Author Gary Rosenberg)
The Garmin vívosmart HR+ is Garmin's latest 24/7 activity monitor with wrist-based heartrate AND GPS! This watch has Garmin Elevate, which is Garmin's own best in class wrist-based heartrate technology along with GPS making it the smallest GPS watch on the market.
It comes in 2 sizes – Regular (5.4" – 7.6") and X-Large (7.1" – 8.8" – Black only).
The vivosmart HR+ has all the same features as the vivosmart HR plus GPS and Move IQ.
Features:
Rechargeable battery - up to 5 days without GPS and up to 8 hours in GPS mode

GPS enabled o Run/Walk Alert o Virtual Pacer

Wrist-based heartrate

Ability to broadcast wrist based heart rate data to other compatible devices that work with ANT+ heart rate monitors  - some examples are: Edge 520, Forerunner 230, Virb…

Move IQ - Automatically track your walking, running, biking, swimming and elliptical training throughout the day without needing to start a timed activity (it takes 10 minutes of the activity before Move IQ will record it as that activity

Waterproof to 50M
Displays time/date, steps, distance, heart rate (wrist-based), calories, floors climbed, activity intensity and alerts you if you haven't moved for at least 1 hour - For each additional 15 minutes of inactivity, a smaller segment will be added
Sleep monitor
Auto sync (through smartphone)
Backlight
Vibration alert
Always on, sunlight readable touchscreen
Activity Timer (run, cardio, other)
Smart notifications (with a compatible phone) - Calls, texts, emails, calendar events and other notifications
Smartphone locator (Find my phone)
Control music on a Smartphone
Virb remote

An Auto Goal will be set based on the user's profile with a screen of how many steps they have taken out of their goal

     -  The Auto Goal can/will change daily to keep the user motivated   

-  

There are also goals for Intensity Minutes and Floors Climbed that are manually adjusted

Move Bar - Why is it important to know if you have not moved for at least an hour? There have been many studies that suggest that even if you exercise regularly; sitting for prolonged periods has been increasingly linked to many health problems. (The Move Bar will let you know when it is time to get up and move around)

Distance - The vívosmart HR+ has a 3 dimensional accelerometer which is used to count steps (compared to a pedometer which uses a 1 dimensional accelerometer). It uses the user's height from their profile to calculate their stride length. Because of the 3 dimensional accelerometer, the vívosmart HR+ knows when the user is moving faster (running), so increases the stride length to better calculate the distance being covered. GPS is used for distance when a Run activity is started

Garmin Connect (Modern) - The vívosmart HR+ can have its data uploaded to Garmin Connect just like any other Garmin fitness device.  Here you can see your steps, sleep, badges, leader boards and other data related to the vívosmart HR+

Wireless Sync - Using a compatible phone with Bluetooth Smart (BLE), vívosmart HR+ data can be wirelessly uploaded to Garmin Connect using the Garmin Connect Mobile app

Data can also be uploaded through the USB charger and a computer using Garmin 

Express
MyFitnessPal – This is a calorie counting journal App that you can input the food you eat to see how many calories you are consuming per day
Garmin Connect Screen Shot Samples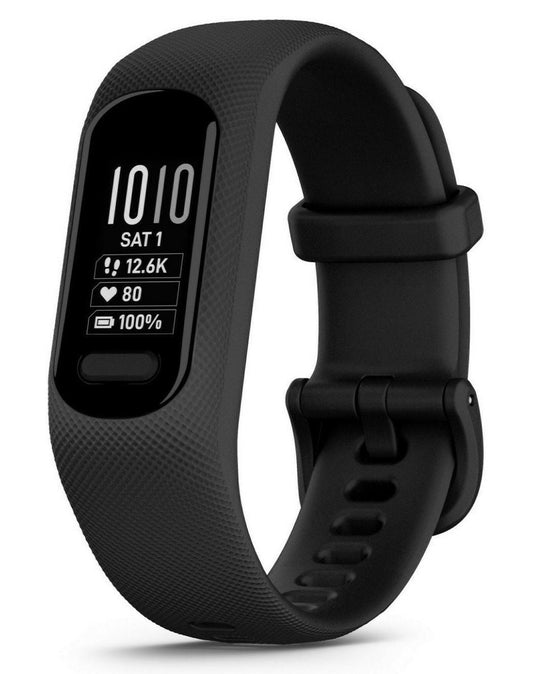 Garmin vivosmart 5 Fitness Tracker
Garmin
$149.99
Take charge of your health with vívosmart 5. This easy-to-use, comfortable fitness tracker comes loaded with features to track your activity all day and sleep stages all night once set up through the Garmin Connect™ app
Garmin vivosmart 3 Charging Cable
Garmin
$8.00 $29.99
Conveniently recharge your compatible activity tracker with this cable. Simply connect your device to the clip and use the USB cable to connect your Garmin product to your computer. **Comes in Frustration Free Bulk Packaging**