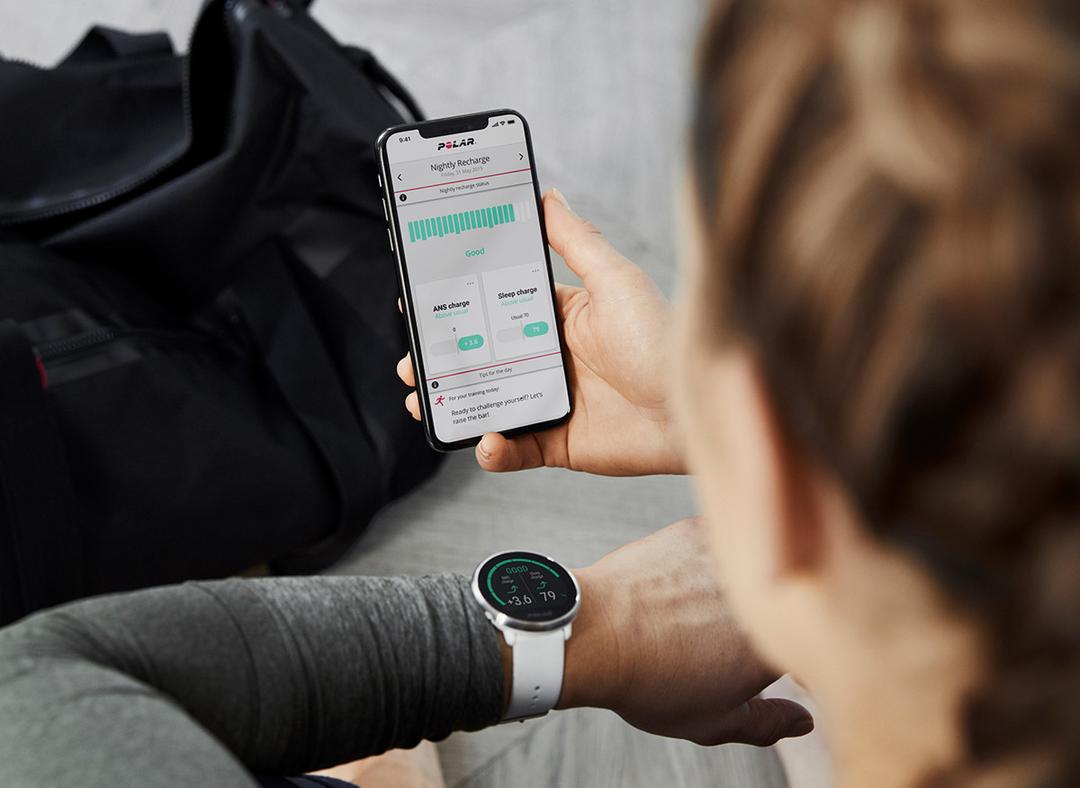 FIND THE BALANCE WITH BETTER SLEEP & BETTER RECOVERY
Better sleep equals better recovery – and a more balanced life. With all the pieces of the puzzle in place, it's easier for you to discover your potential.
BUILD THE DAY ON THE NIGHT
The Nightly Recharge™ recovery measurement gives you daily feedback on how well you recover from stress and training during the night. This helps you make optimal choices during the day.
KNOW HOW YOU SLEEP
Follow your sleep stages and get detailed sleep insights with the Sleep Plus Stages™ sleep tracking. Getting easily understandable data about your sleep helps you make the necessary adjustments to get better sleep.
BREATHE AND FOCUS
Relax your body and calm down your mind with the Serene™ breathing exercise. Making breathing exercises a new habit helps you manage your stress levels and sleep better
YOUR HEART IS KEY: LISTEN TO IT AND TRAIN SMARTER
Tracking your heart rate is the basis for improving your fitness. When you have your heart rate divided into heart rate zones and clearly visualized on your wrist, you'll know exactly how hard you're working at all times.
NO MORE GUESSWORK
When you track your workouts with Polar Ignite and work out with varying intensity, you'll know the benefits of each and every one of your sessions, and make sure you get the most out of every single workout you do.
DAILY TAILORED WORKOUTS WITH THE FITSPARK™ TRAINING GUIDE
Enjoy your personal, on-demand, ready-made workouts that match your recovery and readiness every day. FitSpark determines what workouts suit you best each day and gives you a selection to choose from.
DISCOVER THE ULTIMATE TRAINING PLATFORM
The Polar Flow app and web service is your automatic workout log, the home of your sleep and activity data, and the place for you to track your progress.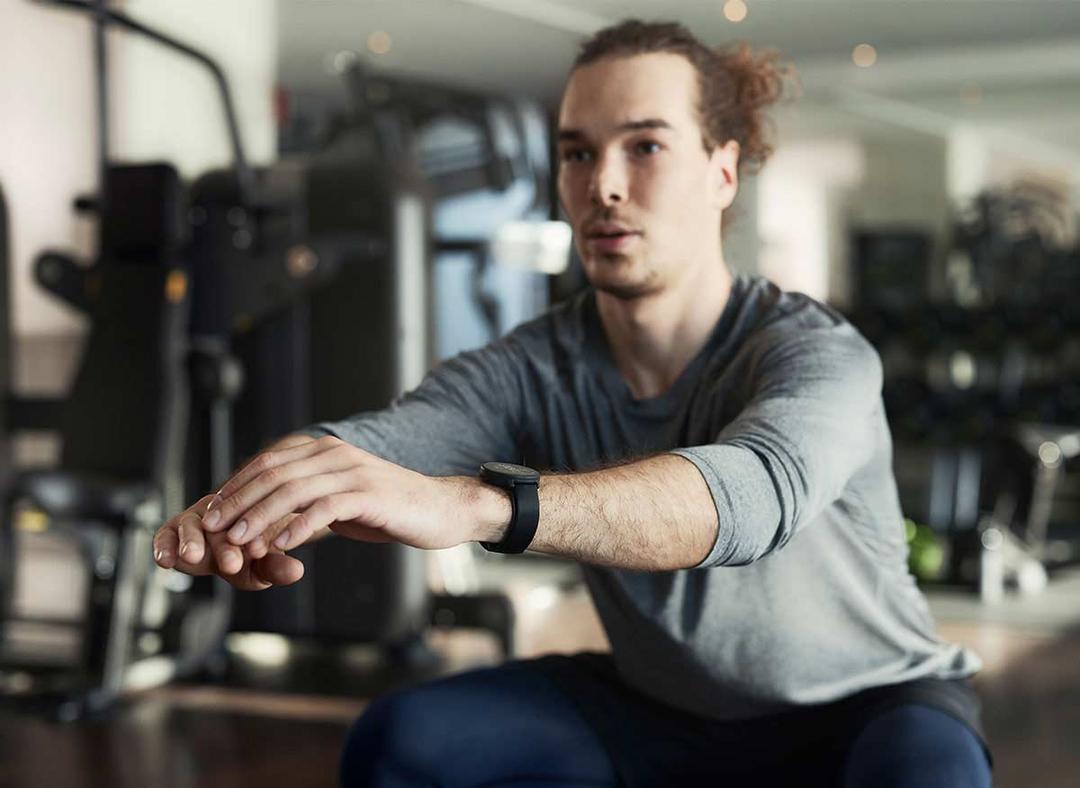 More than a Fitness Tracker
With Polar Ignite, you get access to the full Polar Flow where everything is connected. Your training data is conveniently available on one platform anytime, anywhere.
The Polar Flow app and web service is the home of your training, activity and sleep data.
Sync your Polar Ignite with your phone and have all your workout data stored in one place automatically.
Keep track of your sleep and daily activity
See your sleep stats and get tips on how to reach your daily activity goal.
Share your Data
Share your training data with your personal trainer or coach with the free Polar Flow for Coach service
Share your highlights, join groups and let the Polar Flow community help you on your way to your goals.

Polar Precision Prime Heart Rate - Polar redefines the gold standard in optical heart rate accuracy by combining the latest in bio-impedance electrodes and optical sensors.
Daily Training Guide - Unsure what type of workout to do that best suits your fitness goal? Let Polar's Fitspark™ daily training guide provide the input needed to help you get there.
Nightly Recharge™ - Exercise can have a positive effect. It can also leave you fatigued and worn down. The introduction of Polar's Nightly Recharge™ measures your recovery during the night so you can make the right decision in the morning.
Improved Sleep Tracking - Get the valued insight you need to get a good night's rest with Polar's Sleep Plus Stages™ analysis.
Integrated GPS - Speed, distance and route tracking. No phone needed!
Color Touch Screen – High resolution, touch screen navigation.
Swimming Metrics – Capture key metrics like stroke, distance, and pace, both indoors and out.
3rd party compatibility - Exercise and activity data is automatically sent and is available to be used in services where you allow it. Connect your Flow account for example to Apple Health Kit, Google Fit and MyFitnessPal.
Smart Coach Features
GPS - Track your speed, distance, route and altitude.
Wrist Based Heart rate - Polar Ignite tracks heart rate with the Precision Prime™ sensor fusion technology.
Smart Calories - Know exactly how many calories you've burned based on your weight, height, age, gender, your individual maximum heart rate (HRmax) and how hard you're training
Continuous Heart Rate - Get a comprehensive view on how your heart behaves during your day. Continuous heart rate monitoring gives you even more accurate calorie burn and activity data and tells you the lowest and highest heart rate of your day
Nightly Recharge - See how well you recover from your day during the night
FitSpark Training Guide - Get ready-made daily workouts that match your recovery, readiness and training history.
Activity Guide - Keep moving. Polar Ignite gives you a personalized daily activity goal that motivates you to keep moving throughout the day. You'll see how active you've been, and Polar Flow gives you practical tips on how to reach that 100%
Fitness Test - Test your fitness level easily in just 5 minutes without breaking a sweat
Sleep Stages - Follow your sleep stages and get insights to your sleep quality.
Serene Breathing Exercise - Relax your body and calm down your mind with the help of a guided breathing exercise
Running Index - Get an estimate of your running VO2max and see how your running performance is developing.
Running Program - Training hard is good, training smart is better. Polar's scientifically-validated Smart Coaching delivers the tools you need to achieve your goals with efficiency and precision
Phone Notifications - Stay connected with notifications from your phone. You'll get alerts for incoming calls, messages, emails and calendar events.
Swimming Metrics - Follow your progress in the pool – Polar Ignite automatically detects your heart rate, swimming style, distance, pace, strokes and rest times.
Training Benefit - Get motivating feedback immediately after training describing the effect of the session
Training Load - Quantify the strain of your training session and see how your training strains your body
Sport Profiles - Polar Ignite supports over 100 different sports. Add your favorite sports to your watch in Polar Flow.
Polar Club - If your gym uses the Polar Club group heart rate system, you can use Polar Ignite to display your heart rate on the screen.
⚠ Ca Residents: Proposition 65 warning
Measurements
43 x 43 x 8.5 mm
Materials
Glass fiber reinforced polymer case. Stainless steel bezel & button.

Battery
165 mAh Li-pol battery. Battery life up to 17 h in training mode (GPS and wrist-based heart rate), up to 5 days in watch mode with continuous heart rate tracking

Connectivity
Bluetooth Low Energy. Custom USB charging adapter for charging and data synchronization.
Weight
35 g with wristband, 21 g without wristband
Display
Gesture-activated color touch display (IPS TFT) with ambient light sensor (ALS). Always-on option in training mode. Resolution 240x204. Dragontrail glass lens.
GPS
Integrated GPS, GLONASS, Galileo, QZSS. Assisted GPS for fast fix times.

Watch
Time & date. Alarm with snooze. Stopwatch & countdown timer

Wristbands
Black & Silver: TPU plastic,STAINLESS STEELbuckle.
Other colors: Silicone,STAINLESS STEELbuckle.
Sizing:
S: wrist circumference 130-185 mm
M/L: wrist circumference 155-210 mm
Sensors
Compatible with Polar BLE heart rate sensors.
Go Solo
Can be set up and used without other devices or connections (limited memory capacity for data storage). To access all features, functionalities and unlimited cloud storage, connect your watch to Polar Flow, our free app and web service and the home of your sports and fitness data

Polar Verity Sense Optical Heart Rate Sensor
Chargeable battery & Waterproof (50 m)
Long battery life: 24 hours on a single charge
Internal memory: 16 MB, 600 hours of training time
Works with all Polar Bluetooth® devices, most sports and smart watches, Polar Flow and many other fitness apps
Works with ANT+ devices such as gym equipment and cycling computers