Keep on pushing. Power Glass solar charging extends battery life up to 42 minutes per hour in battery saver mode.

Ride farther, charge less. With solar charging, get up to 45 hours of battery life in demanding use cases and up to 100 hours in battery saver mode.

Go deep. Dense tree cover and the urban canyon are no match for its spot-on accuracy with multi-band GNSS.

Your cycling ability and the course demands help you understand your strengths and weaknesses

Ride like a local with ride type-specific maps and navigation.

Know how much is left in your tank with stamina insights.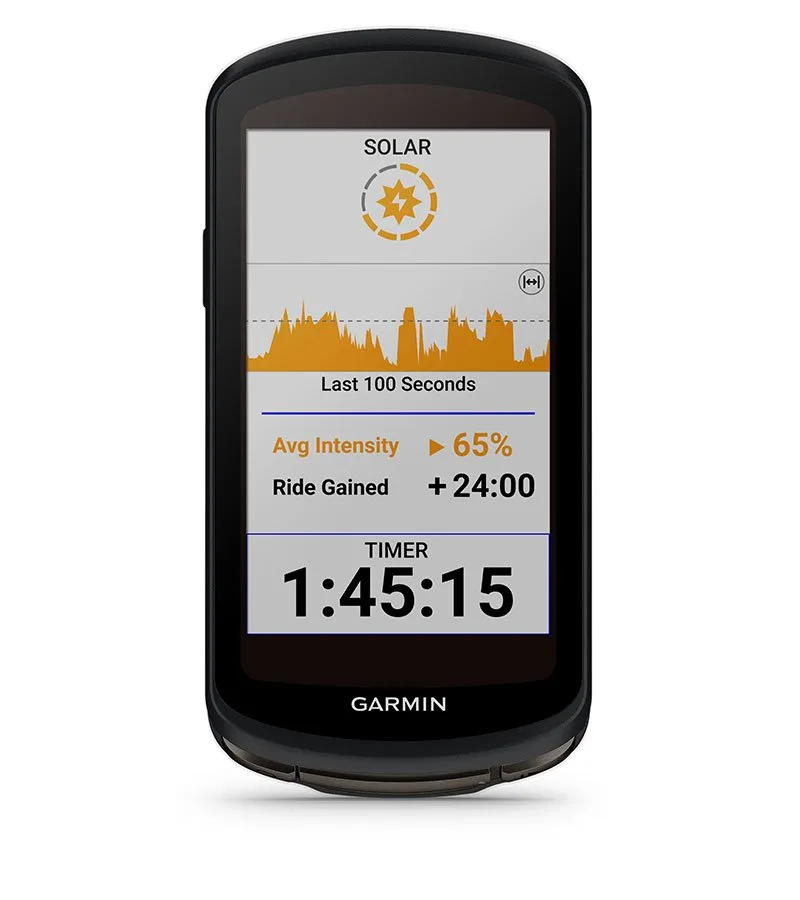 SOLAR CHARGING
The Power Glass solar charging lens extends battery life, giving you up to 100 hours in battery saver mode or up to 45 hours in demanding use cases. During daytime rides, it adds up to 42 minutes per hour in battery saver mode and up to 20 minutes per hour in demanding use cases.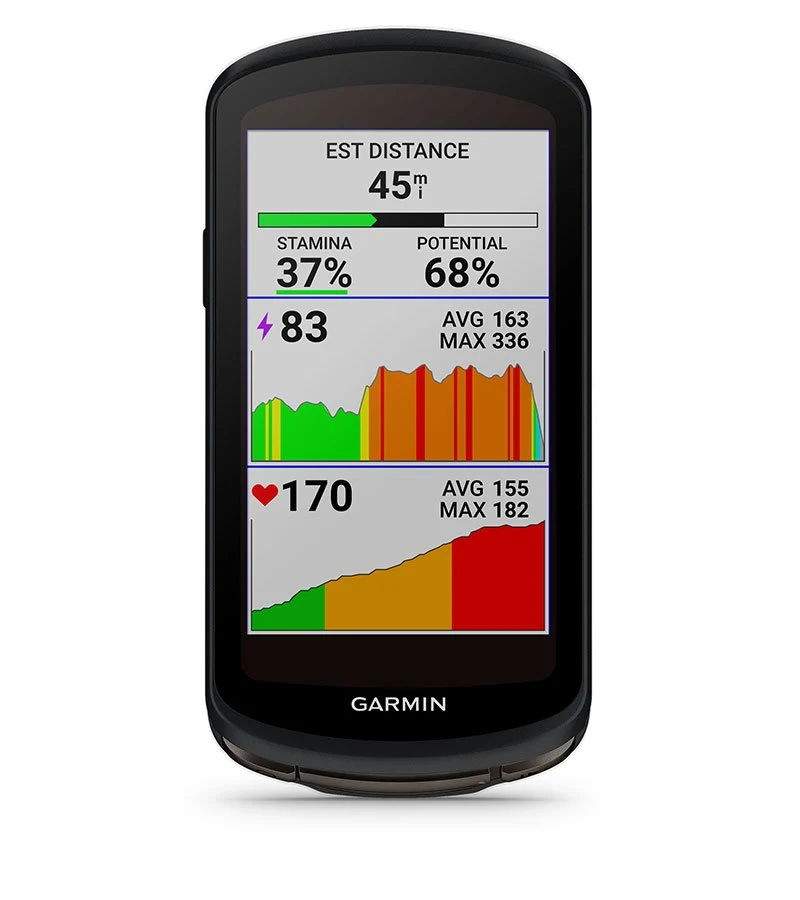 STAMINA INSIGHTS
While you ride, get stamina insights so you can keep an eye on how much you have left in the tank.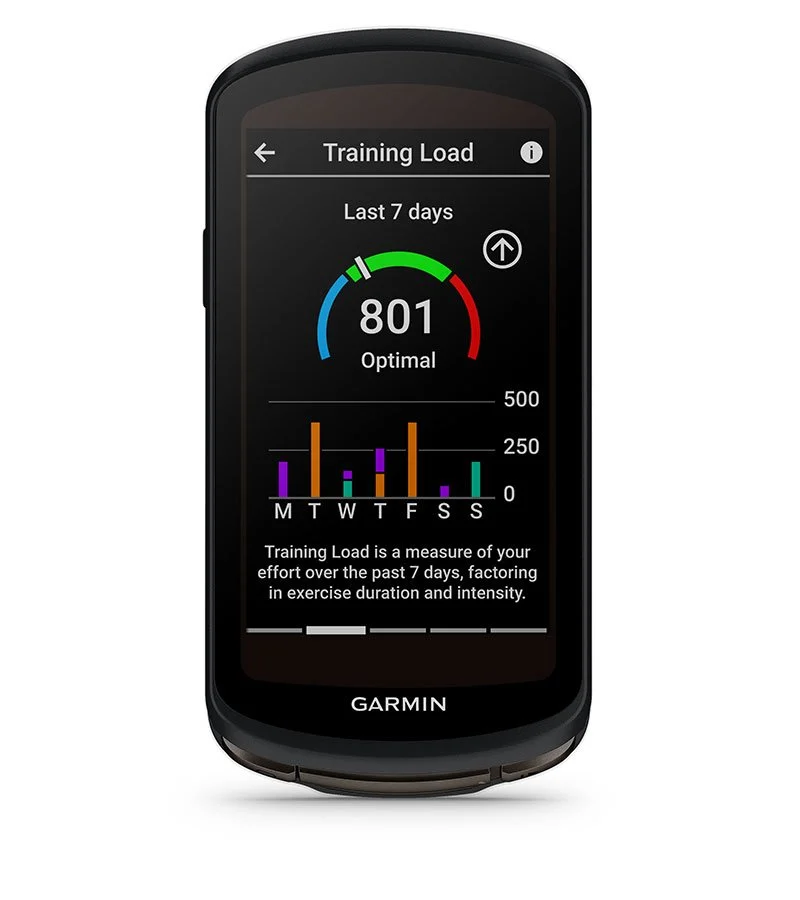 DYNAMIC PERFORMANCE MONITORING
Get more insight into how your body is responding to training. Track
VO2 max

,

recovery

time

,

training load

,

training load focus,

and more
DAILY SUGGESTED WORKOUTS
For training guidance that takes you and your fitness level into account, get daily ride suggestions based on your current training load and VO2 max
SYNC TRAINING PLANS
Get your indoor and outdoor training plans from the Garmin Connect™ smart-device app, or sync seamlessly to your Edge device from other apps, including the TrainingPeaks app. Plus, get prompts to complete a missed workout.
HEAT AND ALTITUDE ACCLIMATION
Prepare yourself for any environment. See how your body is holding up in different environments with heat and altitude acclimation.
CLIMBPRO FEATURE
Automatically see the remaining ascent and grade when you're climbing while following a route or course. This helps you gauge your effort and see how much you have left to suffer. You can even save your climbs for postride review on your device or in the Garmin Connect app.
NUTRITION AND HYDRATION ALERTS
Get the insight you need to stay fueled, mile after mile. Edge 1040 will notify you when it's time to hydrate or eat.
CYCLING DYNAMICS
Take advantage of advanced cycling metrics designed to explain how your performance changes based on variable conditions such as position, bike setup, ride duration, and more.
MTB DYNAMICS
Track the epic details of every ride with mountain biking metrics such as jump count, jump distance and hang time.
GRIT AND FLOW
Grit rates the difficulty of a ride using GPS, elevation, and other data. Flow measures how smoothly you descend a trail, so you have a score to beat next time.
MULTI-BAND GNSS
Get better positional accuracy and coverage — even in the most challenging environments — with multi-system, multi-band GNSS technology.
RIDE TYPE-SPECIFIC MAPS
Ride like a local, whatever your bike type, with improved maps that highlight popular roads and trails plus searchable points of interest (POIs).
TRAILFORKS APP
With routable worldwide MTB trail data and POIs from Trailforks, easily search for trails directly on your Edge. Or download the Trailforks app to transfer your planned routes from the Trailforks website.
FORKSIGHT MODE
This mode automatically displays upcoming forks in the trail and gives you context by showing where you are within a trail network.
TURN-BY-TURN DIRECTIONS
Never get lost with turn-by-turn directions and alerts that notify you of upcoming turns.
SHIMANO STEPS EBIKE SYSTEM COMPATIBLE
View a dedicated eBike status screen, data fields and support for system status and warning messages. Even see assist level, gear position, battery life, and more during a ride.
OFF-COURSE RECALCULATION
Feel free to pause route guidance and off-course notifications while you go off-course to explore. When you're ready to get back on track, Edge 1040 Solar will show you the way.