Fitbit Aria Wi-Fi Smart Scale
Fitbit Aria Wi-Fi Smart Scale
has a rating of
5.0
stars based on
3
reviews.
By Fitbit
What's Included
Aria® wi-fi smart scale
4 AA batteries
Water Resistance
Aria is designed to work in a humid bathroom environment. Some condensation due to hot showers, etc. will not damage the scale. The scale should not be submerged. Avoid splashing large amounts of water on the scale. To prevent slipping or accidents, please thoroughly dry the glass top before stepping on the scale.
Care
Warning: Do not use if you have a pacemaker or other internal medical device, or are pregnant. Not intended for use by children under 10. Always consult your physician. Slippery when wet.
Sensors and Components
Weight and BMI: Four load cells measure weight. BMI is calculated and displayed based on weight and height.
Body composition: The scale measures body mass using bioimpedance analysis.
Display
Backlit LCD display
Displays weight, % body fat, and user selection
Units in pounds, kilograms, or stones
Materials
Tampered glass platform
ABS bottom housing
Battery and Power
Aria uses 4 AA batteries - no power cord necessary.
Battery type: 4 standard 1.5V size AA batteries (included)
Environmental Requirements
You will get the most reliable readings on a hard surface (not carpet).
Operating temperature: 32° to 132.8° F
Relative humidity: 0-95%
Users
Aria automatically recognizes up to eight different people. Your weight data syncs to your private Fitbit dashboard, so you can control what data you share.
Measurement range: 20-350 lbs
Syncing
Aria syncs automatically and wirelessly through your home wi-fi network. Network requirements:
Wireless 802.11b
WEP/WPA/WPA2 personal security
Automatic (DHCP) IP setup (static IP configuration not supported)
To set up for the first time, you'll need one of the following: Windows XP and later, Mac OS X 10.5 and up, iPhone 4S and later, iPad 3 gen. and later, and leading Android and Windows devices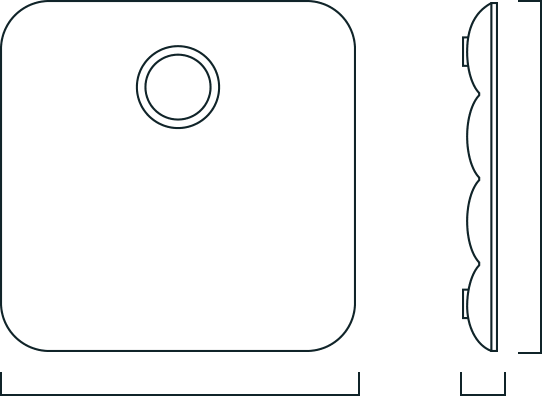 Weight: 4 lbs, 4.3 oz

31.2 cm x 33.4 mm x 31.2 cm
Save
HRM USA is dedicated to always offering the best value to our customers. We will match the price, at the time of purchase any product sold by an Authorized Dealer of that specific product offered at lower price. Proof of lower price is required.
Here's how to qualify for Price Match:
If you find a qualifying lower price online, call 1-800-403-8285 or 215-259-2700 Between 9am - 6pm EST and one of our employees will assist you with the price match request.
On qualifying products, HRM USA will then verify the current price to complete the price match.
Some exclusions apply:
Services such as custom imprinting, extended warranties, ect.

Items must be in advertised as New Condition, HRM USA will not price match against Used, Newly Overhauled, Manufacturer Refurbished, or Open Box Returns

Out of Stock or Preorder items do not qualify

Products shipped from or sold by third-party sellers (Marketplace Sellers) on Website

Price Match will take into consideration final value costs, including shipping and taxes.