Physicool: Better Than Ice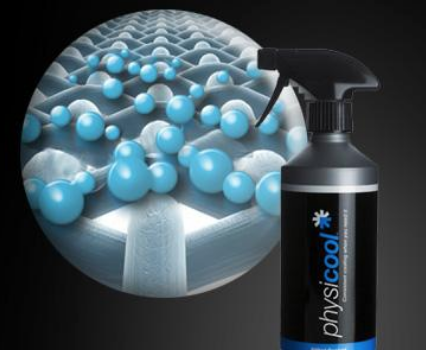 Physicool is a unique cooling bandage impregnated with rapidly evaporating alcohols. The alcohols react to the body heat and evaporate when the bandage is worn.
This evaporative process draws heat out of the warmest source – local underlying tissue. While the deep tissue is cooling down the compression will modify the inflammatory response, helping healing and recovery.
The versatile Physicool Cooling Bandage has proved to greatly reduce swelling and inflammation, reducing pain whilst helping speed up the recovery process, getting people back up on their feet fast!

Physicool Cooling With Open-cell Technology
The Physicool bandage has been scientifically developed to bind the coolant to the surface of the bandage and ensure a sustained delivery of coolant. This is achieved through the unique weave of the bandage which employs open-cell technology which traps the coolant in the 'cells' and releases a continual cooling effect.
More coolant can be sprayed directly into the bandage if a further period of cooling is required. There is no need to remove the bandage to do this, due to the exceptional binding effect of Physicool.
Cryotherapy
Cryotherapy (cooling therapy) is widely used as a beneficial treatment in both the early management and the rehabilitation of soft tissue injuries. The temperature of the underlying tissues is reduced by the withdrawal of heat away from the body to achieve a therapeutic effect; reducing tissue temperature, blood flow, pain, and metabolism in the affected area. When Physicool is used correctly, the bandage will feel warm to the touch on the outside.
Compression
Physicool combines compression and support with sustained cooling. Research shows that the therapeutic benefits of cold therapy are enhanced by the simultaneous compression of the affected area (Capps, 2007). The aim of compression is to stop hemorrhaging and reduce swelling.
Physicool Combo Pack Bandage + Coolant (Small)
Physicool combination packs include one size A bandage and one 250ml bottle of coolant. The combination pack will allow you to get 3-4 uses out of a single bandage.

Physicool Cooling Bandage (Large)

The large size bandages are suitable for all knee and shoulder injuries.

Physicool Cooling Bandage (Small)
Small size is suitable for the elbow, wrist, and ankle injuries. Small bandages will also work for knee injuries on most smaller legs.
Physicool Refill Coolant

Recharge you bandage by spraying the coolant directly onto the bandage or spraying the rolled-up bandage while in the foil package.

"We have been using Physicool both postoperatively and in between and after training sessions, to help maintain our players range of movement, reduce pain and swelling and provide support. […] It's easily portable for use on the coaches to and from games, it's cost effective, reusable, and provides an element of compression along with cryotherapy. It is very easy to re-apply as the first spray can last for up to two hours and is a great adjunct to our Game Ready and Compy Cool machines."
Dan Martin, Head of Medical Services, Bristol RFC
-----
Physicool has been essential in keeping my clients up and running. Helping athletes to stay injury free whilst they are training for triathlons and working full time is one of my biggest challenges as a coach. In trying to manage a busy training/work/life balance very few of my clients have time to sit with ice packs on for hours. The Physicool bandages allow them to be mobile, so if an injury does occur, they are able to treat it with a product that fits in with their lifestyle whilst still giving them the benefits gained from icing. This then allows them to get back to training far more quickly. I highly recommend Physicool.
Graham Wadsworth – Endurance Coach and Pro Xterra Triathlete
-----
We are always looking for new ways to improve patient aftercare. Physicool reduces patient's pain and gets them back home quicker. Physicool not only mobilizes patients quicker than Cryocuff, it is also a third of the cost.
Dr. Simon Garrett, Consultant Trauma & Orthopedic Surgeon, Dorchester County Hospital NHS Trust
-----
We use Physicool to reduce pain and swelling as part of the Enhanced Recovery After Surgery programme. ­The multi-faceted programme focuses on improving patient outcomes and speeding up a patient's recovery after surgery. The cooling and compressive benefits of Physicool definitely help reduce patient swelling and pain. We want to mobilise patients faster, allowing them to use and bear weight on the limb. Physicool aids this which in turn can help reduce length of stay.
Ruth Cameron, Surgical Care Practitioner, Gwent Healthcare NHS Trust
-----
The cooling bandages were effective in the treatment of a slight adductor strain and in relieving delayed onset muscle soreness in the calves during heavy training at the Pre-Worlds training camp in Mexico. All athletes were really pleased with the longevity of the cooling effect both during and post-application of the strapping.
Dr. Dave Cook, Head Coach, Norwegian National Taekwondo Team 
-----
I had a bad fall outside the house approximately eight weeks ago which caused a Level III ligament injury and tendon damage to my right ankle.  I started to use the [Physicool] bandage around two weeks ago and noticed an immediate improvement both in relation to comfort and reduction of swelling.  I have recommended this product on a number of occasions.
Denise Aghanian
-----
Thank you so much for sending me the Physicool 5ooml spray. I received it this morning, in fact I've got the bandage on now. I've had Rheumatoid Arthritis since 2010 after undergoing knee surgery where I caught a severe infection. I have tried so many types of medication over the years. My RA has become so serve that I now take oral Oramorph for the pain + rub in Ibropen Gel. Since trying Physicool I don't use Ibropen Gel, I use Physicool because it cools down the painful swelling joint and last for 2 hours plus. I use it up to 4 times a day I would recommend to any RA suffer to try.
Graham Peabody
-----
I tried it out the other day and it worked like a charm! Knee is feeling much better thank you, massively impressed.
Zoe Smith, Team GB weightlifter
-----
My chiropractor recommended me the Physicool Bandage when I had really bad trouble with my knee. I had been using frozen peas etc and nothing had any effect at all. After using the Physicool for a few times the relief in the pain was noticeable.  I continued to use it, as directed for about 10 days and the knee injury completely healed. I have used it several times since on other injuries  with wonderful results and recommend it to friends with similar problems. Absolutely excellent product and highly recommended.PS  I ran out of it and forgot to order more.  Then when I needed it urgently, there was none.  I ordered a new bottle immediately online and it was with me almost before I sent off the order.!!
Pat Coulston
-----
Thank you so much. Whilst my wife was given excellent treatment in Austria when the ligaments in her left knee were rebuilt she wishes your products had been made available to her to reduce the swelling which still gives her problems. The cooling spray will enable my wife to continue to use the bandage she bought. She is finding it is helping the pain and swelling she still experiences following an operation on her knee 30 months ago to rebuild the ligaments.
Tim Parker, Bournemouth