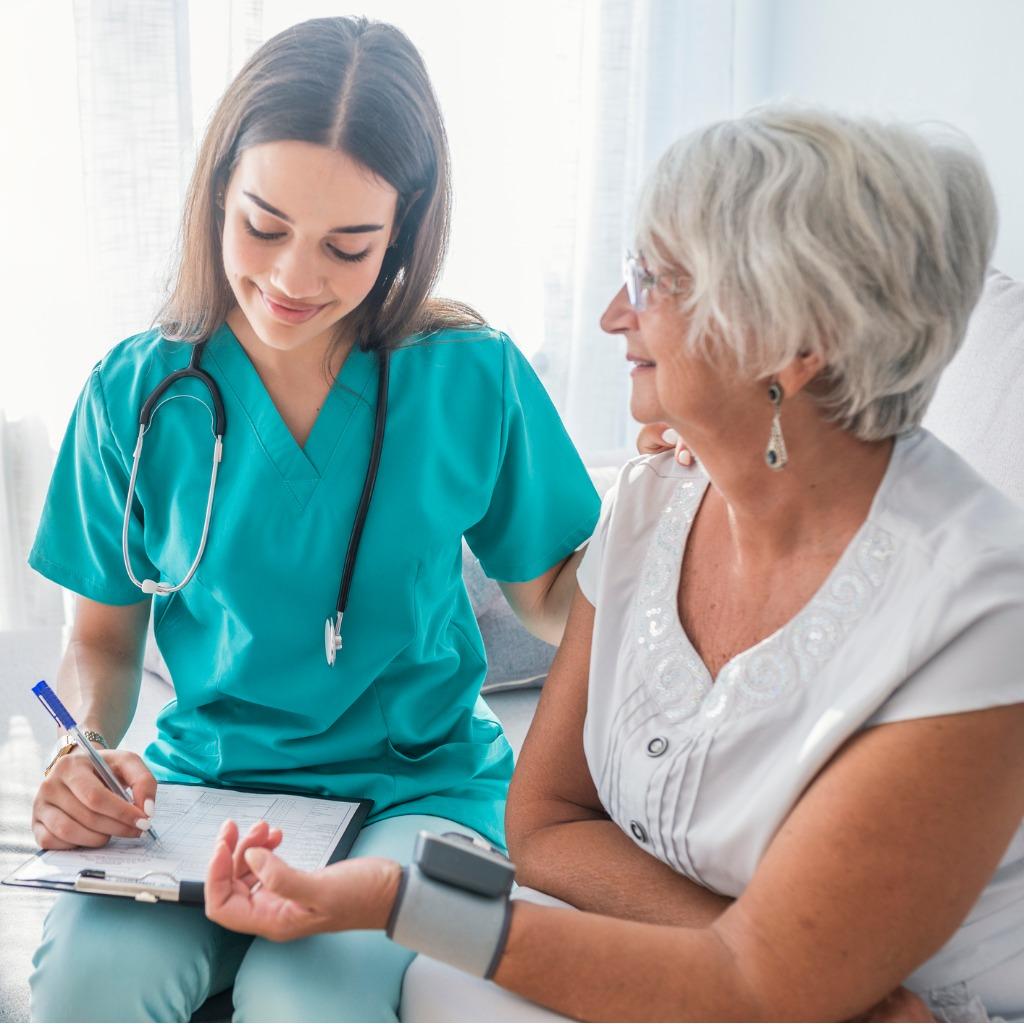 The AHA recommends the following:
Sit quietly while taking your blood pressure.
Rest for 5 to 10 minutes beforehand.
Keep your legs uncrossed and feet flat.
Sit with your back straight.
Rest your arm on a table so cuff is at heart level.
It's Important to Know Your Numbers
Your blood pressure can vary throughout the day by as much as 30 to 50mmHg. Things like stress, exercise, and even when you eat, drink or smoke can impact your numbers.
That's why it's important to consistently take your blood pressure at the same time every day so you know what's normal for you. Speak to your doctor about what your target range should be and what to do if your readings are outside of that range.
A monitor with high-end features that's easy-to-use.
The Quick Response monitor blends digital blood pressure technology and advanced features with simple functionality. This monitor offers memory, time and date feature and more with the simple push of a button. The UA-787EJ stores the last 60 readings in memory and also displays average readings. In addition, the Quick Response offers a time and date function, which indicates when a measurement was taken. Users can also program three alarms per day to remind them when to take a reading.

Included in the monitor is the Easy-FitTM Cuff, an innovative cuff that instantly fits your arm. It has been specifically designed to fit most arms (9-17" or 23-43 cm) and provide the highest level of comfort and accurate readings.

The UA-787EJ also offers two innovative features, the Pressure Rating IndicatorTM and Irregular Heartbeat feature. The Pressure Rating Indicator provides a snapshot of your blood pressure classification based on your measurements and eliminates the guesswork on what your blood pressure measurements mean. In addition, this monitor provides blood pressure and pulse rate measurements even when an Irregular Heartbeat occurs.
Specs
Cuff size: 9 to 17 inches
Clinically validated for accuracy
Stores 280 reading memory
Easy-Fit cuff fits most arms
Three programmable alarms to ensure user takes measurements at the same time each day.
Clock display with time and date stamp for logging and trending measurements
Displays average of all measurements
Pressure Rating Indicator classifies blood pressure in accordance with medically approved standards
Cuffs not made with natural rubber latex
What's Included
787 Blood Pressure Main Unit
Cuff - 9" to 17" (220cm to 420cm) - Pre-formed cuff for easy placement on the upper arm
Manual - Large print
Carrying Case
AC Adapter
Logbook - 4 week
5 year monitor warranty - 2 year cuff warranty
MPN: UA-787EJ
UPC: 093764601552