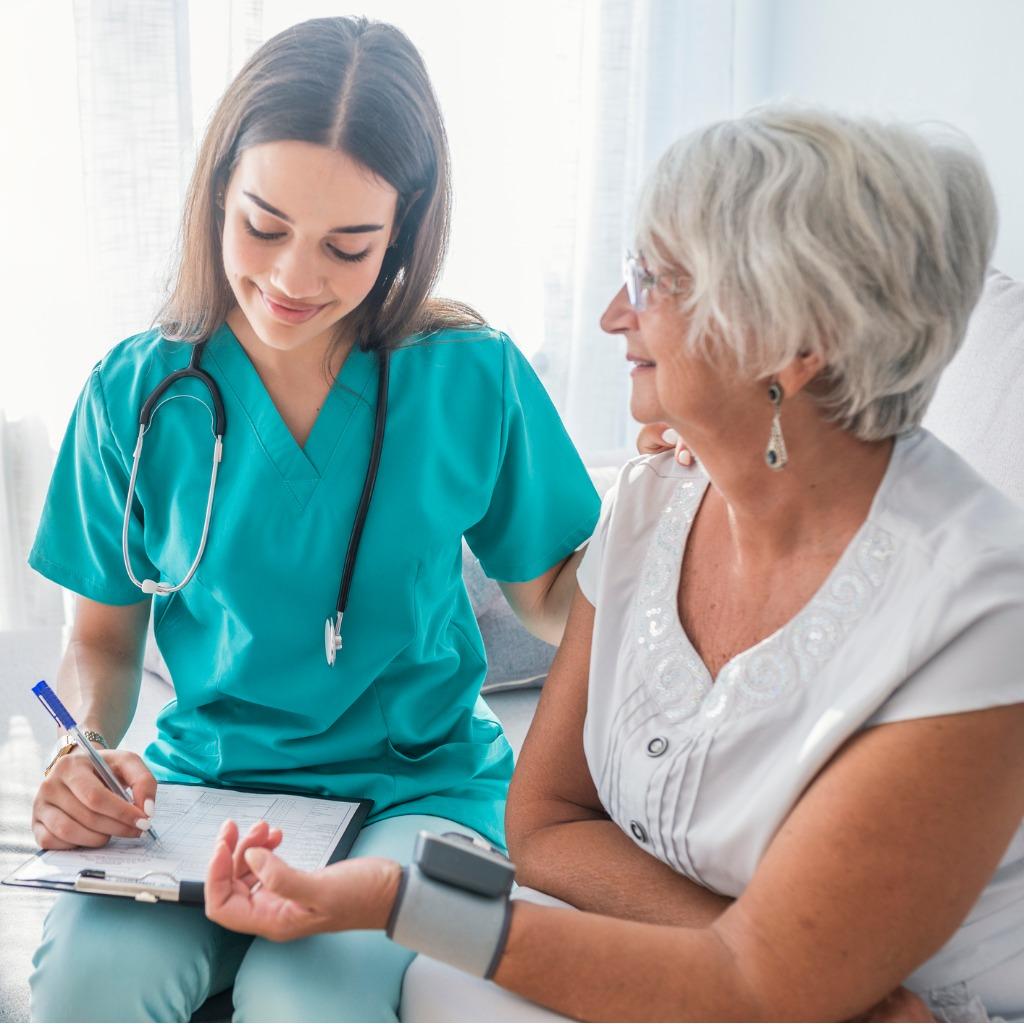 The AHA recommends the following:
Sit quietly while taking your blood pressure.
Rest for 5 to 10 minutes beforehand.
Keep your legs uncrossed and feet flat.
Sit with your back straight.
Rest your arm on a table so cuff is at heart level.
It's Important to Know Your Numbers
Your blood pressure can vary throughout the day by as much as 30 to 50mmHg. Things like stress, exercise, and even when you eat, drink or smoke can impact your numbers.
That's why it's important to consistently take your blood pressure at the same time every day so you know what's normal for you. Speak to your doctor about what your target range should be and what to do if your readings are outside of that range.
A sleek, easy-to-use blood pressure monitor with one button operation plus advanced features.
The UA-767 Pro blood pressure monitor incorporates the latest technology for accurate measurements at home. The One Step Pro Memory monitor is fully automatic and inflates to the correct pressure each time a measurement is taken. The monitor stores the last 90 readings in memory and also displays average readings. The average reading feature automatically calculates the "average" of the total readings stored in memory.
Features
Clinically validated for accuracy

One button operation

90 reading memory

Irregular Heartbeat feature - Alerts you of the presence of an irregular heartbeat and provides blood pressure and pulse rate measurements even if an irregular heartbeat occurs

Large digital display

Fast measurement

Latex free

Provides simultaneous readout - of systolic/diastolic pressure and pulse rate

Calculates and displays average blood pressure readings

Alerts the user of the presence of an irregular heartbeat during reading

Clock display with date and time stamp for logging and trending measurements

Display: Digital: 16mm Character height (BP), 10mm character height (Pulse)

Pressure and pulse displayed simultaneously

Pressurization: Automatic, using micro pump

Deflation: Automatic exhaust

Battery Life: Approx. six months with one daily measurement

Power Source: Four type AA alkaline batteries (1.5 volt) or AC Power Adapter (TB:181).

Batteries  not Included / AC power adapter not included.
What's Included
767 Blood Pressure Monitor

One Cuff - Size Small (fits 6.3-9.4" arms)

Instruction manual (in 3 languages)

Quick start card

Blood pressure logbook

5 Year Warranty on machine / 2 Year Cuff Warranty
Sizing
Upper Arm Measurement: Small Cuff Measures to 6.3 to 9.4 Inches
MPN: UA-767PVS
UPC: 093764600562