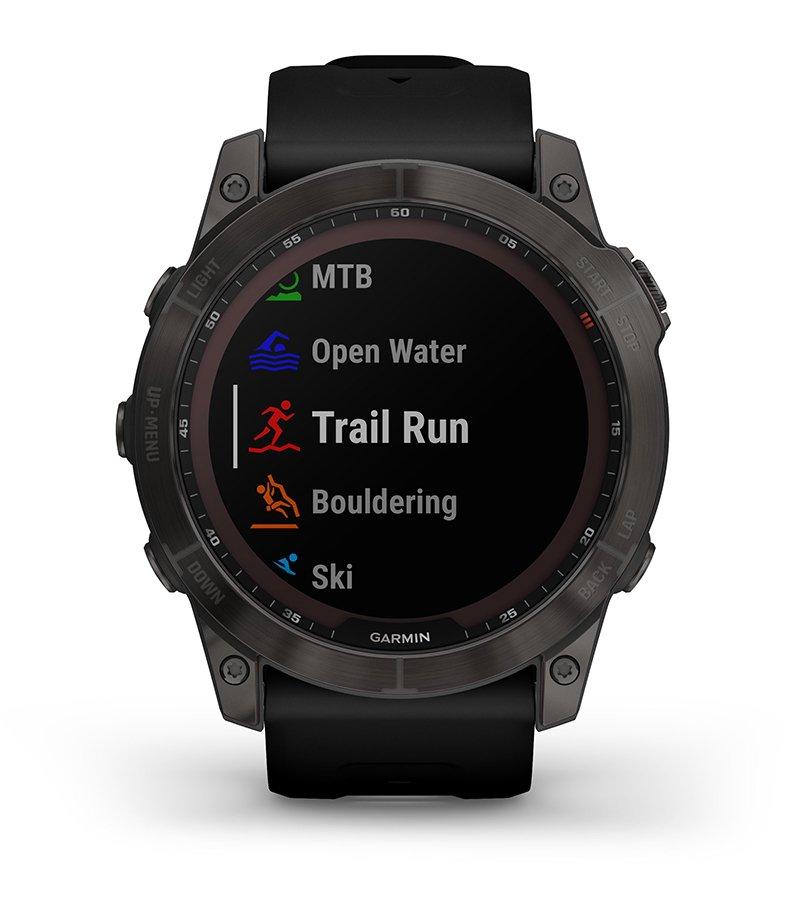 BUILT-IN SPORTS APPS
Use preloaded activity profiles for trail running, swimming, running, biking, hiking, rowing, skiing, golfing, surfing, indoor climbing and more.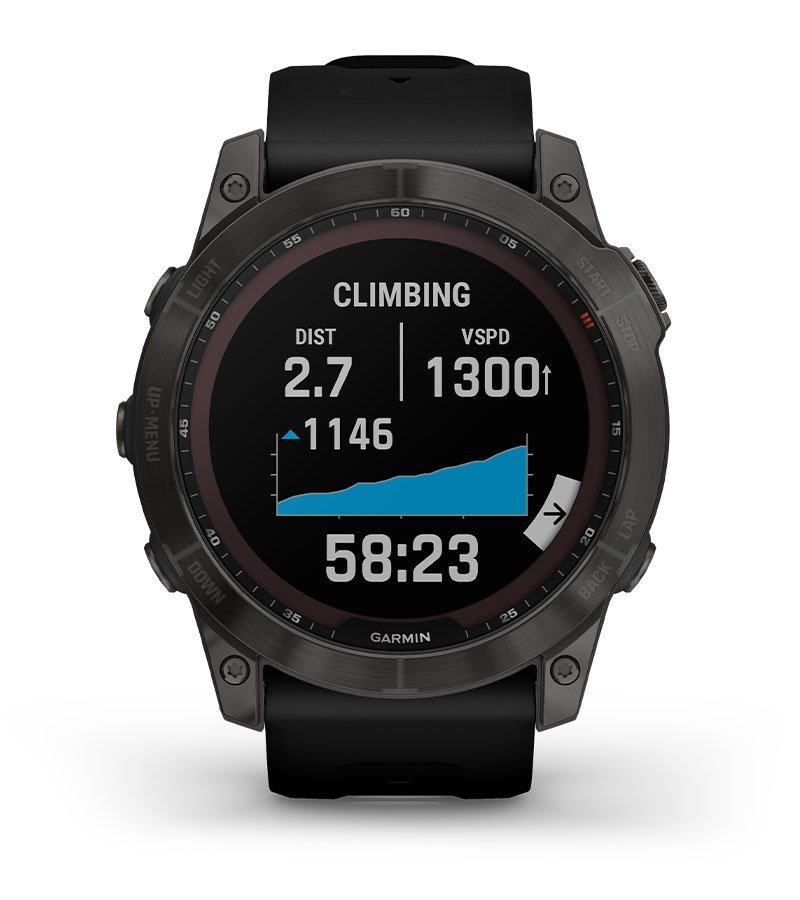 BACKCOUNTRY SKI
Stay informed when you're in the snow. This preloaded profile helps distinguish between skiing and climbing. It shows metrics specific to either ascent or descent.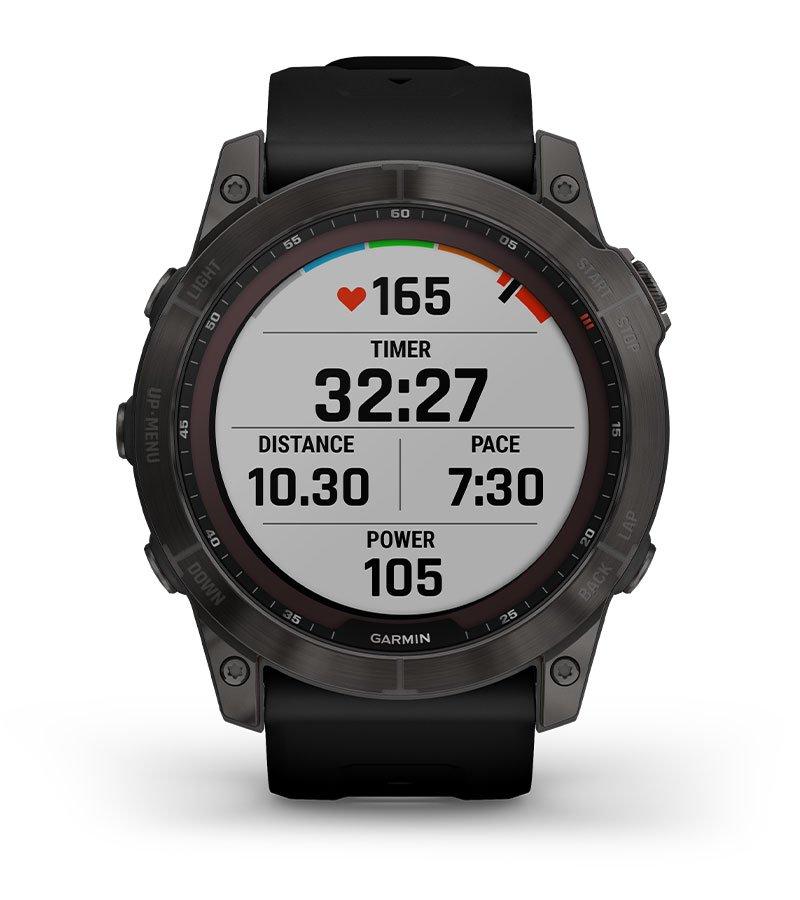 XC SKI DYNAMICS
When paired with the HRM-Pro™ chest strap (sold separately), the ski power metric helps measure the actual exercise load of your cross-country workouts.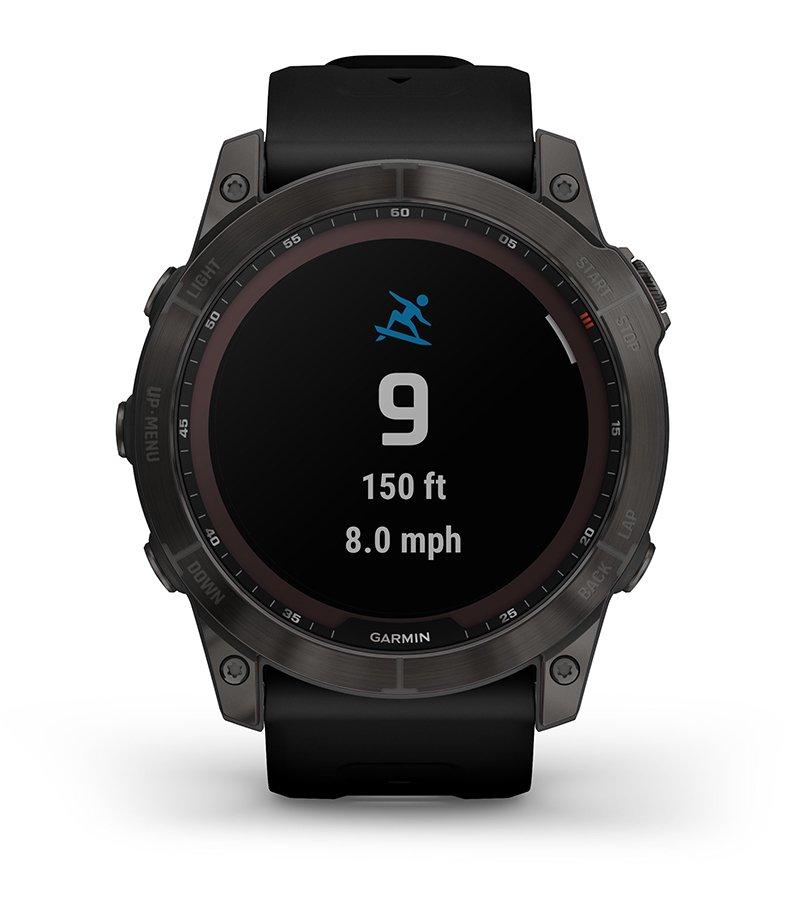 SURF-READY FEATURES
Get ready to catch some waves. This fēnix watch works with the Surfline Sessions™ feature, which creates a video of every wave you ride in front of a Surfline® camera. So you can watch them later and see how you did with your Surfline Sessions subscription.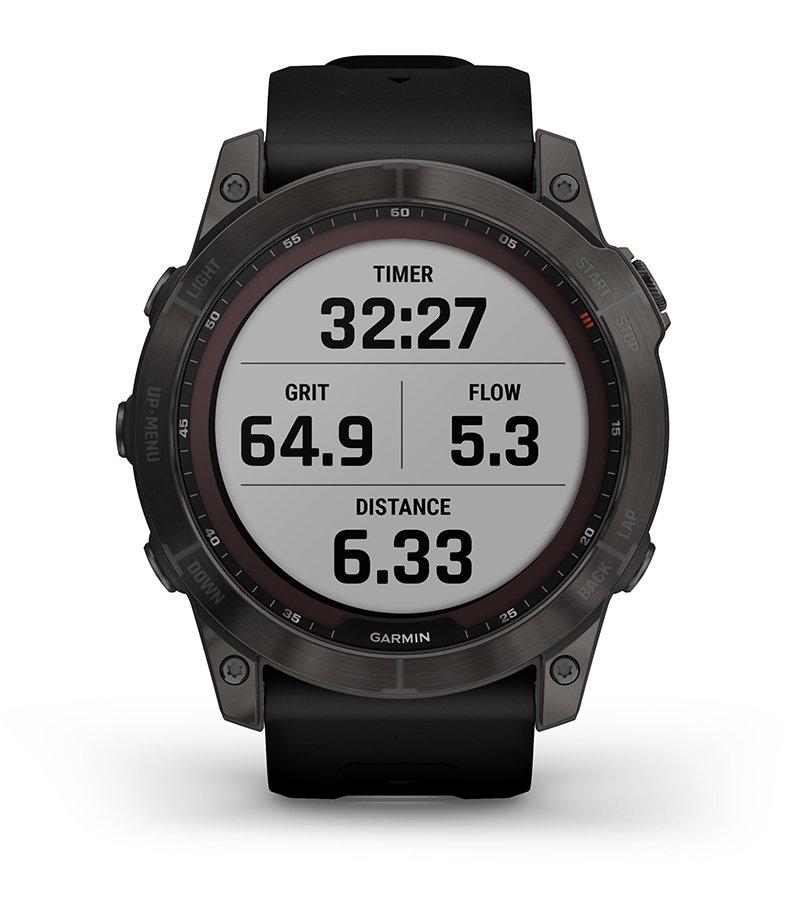 MTB DYNAMICS
Track the details of every ride with mountain biking metrics plus specialized Grit™ and Flow™ measurements that rate trail difficulty and how smoothly you descend, giving you a score to beat next time.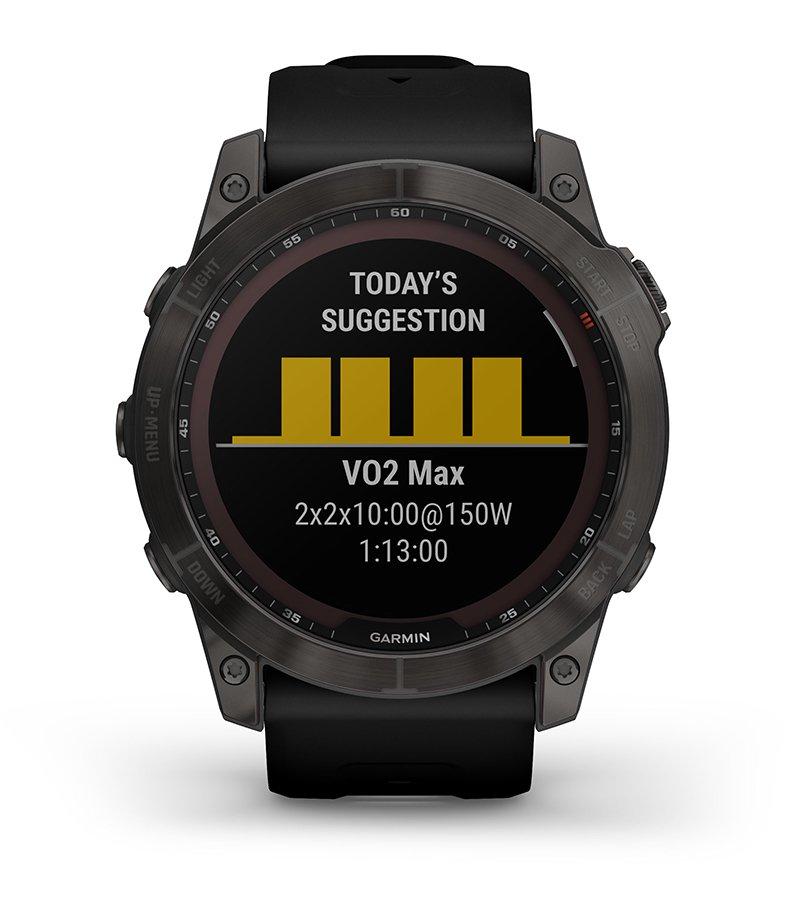 DAILY WORKOUT SUGGESTIONS
For training guidance that takes you and your fitness level into account, get daily run and ride recommendations based on your current training load and training status.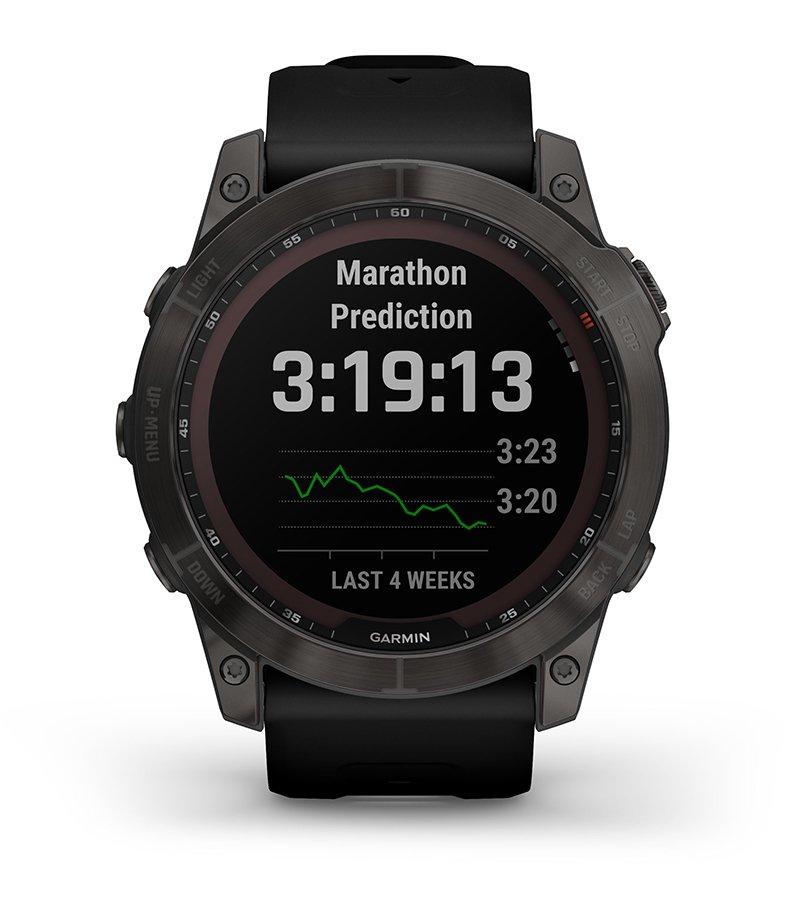 VISUAL RACE PREDICTOR
Based on your running history and overall fitness level, this feature provides an estimate of what your pace could be for the distance you want to run. Trend data shows how your training is having an impact over time.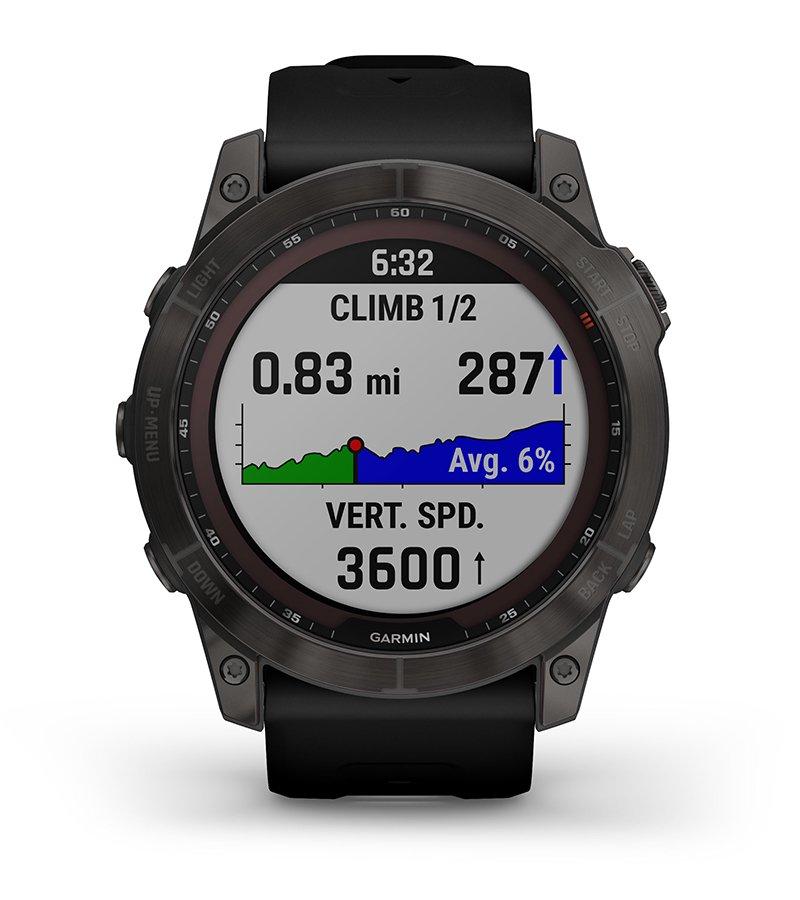 CLIMBPRO FEATURE
Use the ClimbPro ascent planner on downloaded courses to see real-time information on your current and upcoming climbs, including gradient, distance and elevation gain — as well as descents and flats.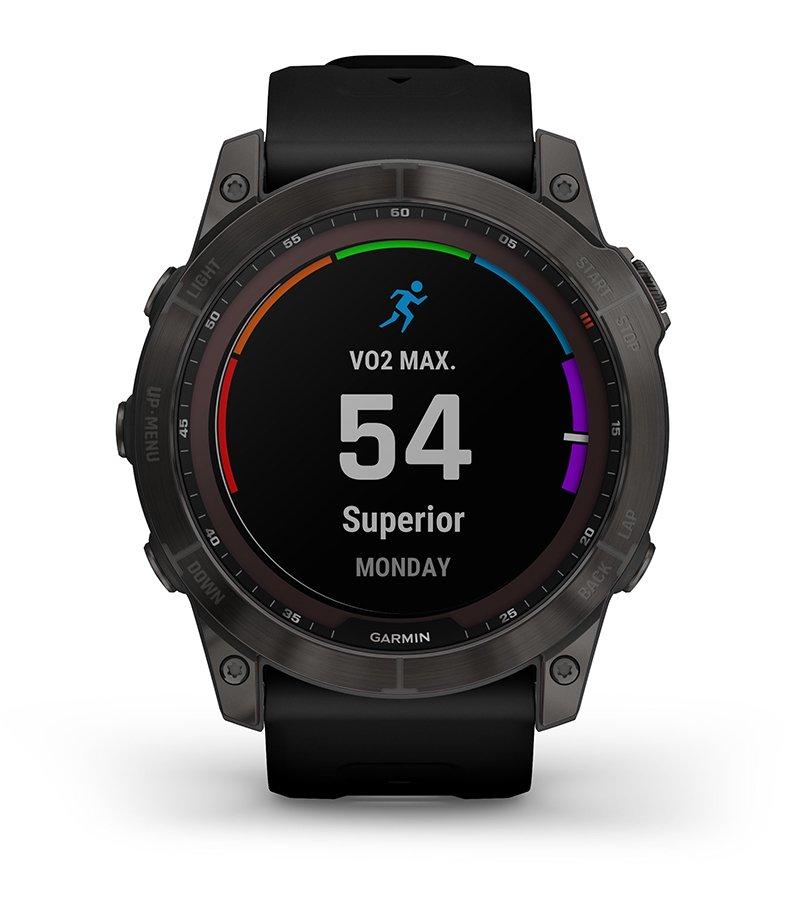 PERFORMANCE METRICS
View advanced training metrics that include running dynamics, heat- and altitude-adjusted VO2 max, trail running adjustment, recovery advisor and more.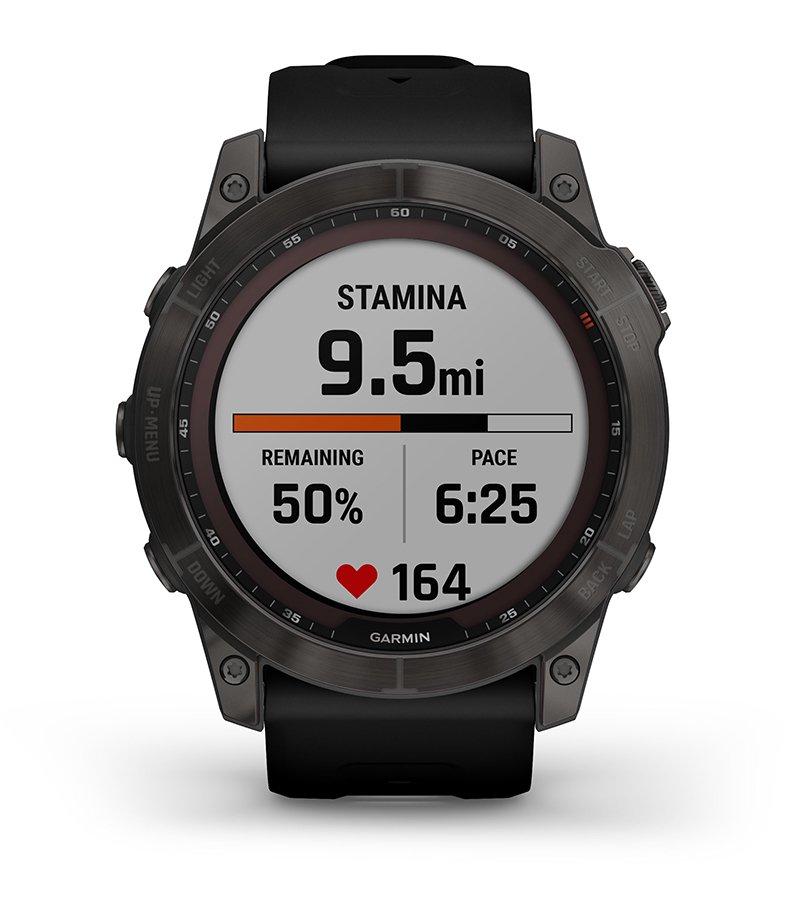 RECOVERY TIME ADVISOR
After each workout, recovery time lets you know when you'll be ready for another hard workout. It even accounts for training intensity and factors such as stress, daily activity and sleep.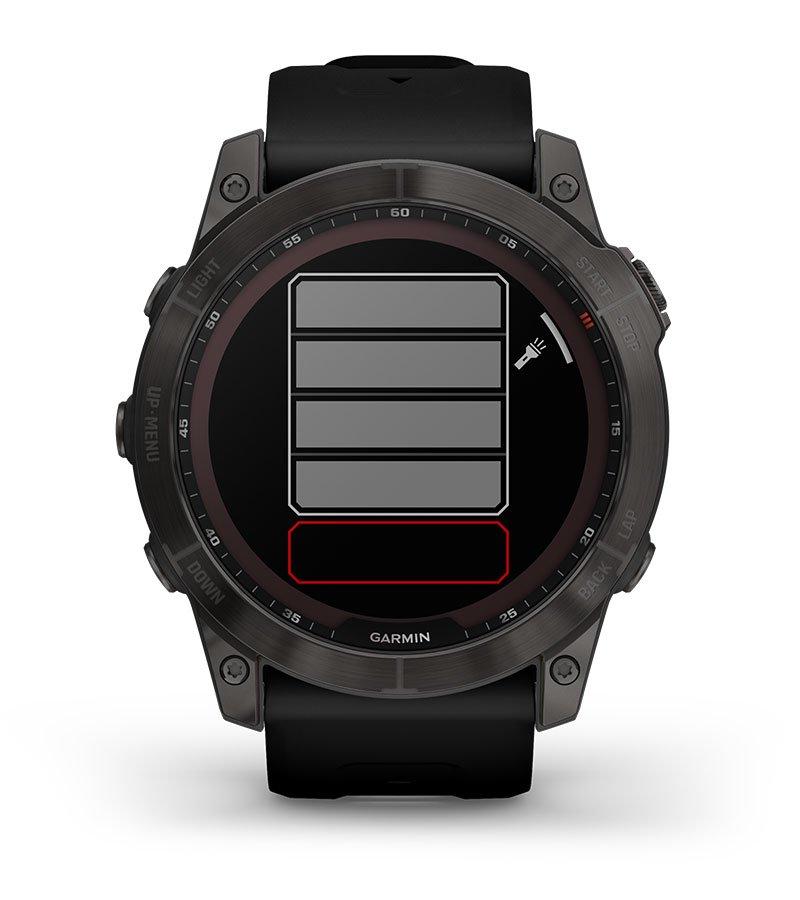 BUILT-IN FLASHLIGHT
To help guide your way in low-light conditions, a built-in multi-LED flashlight provides quick access to a bright, steady beam of illumination.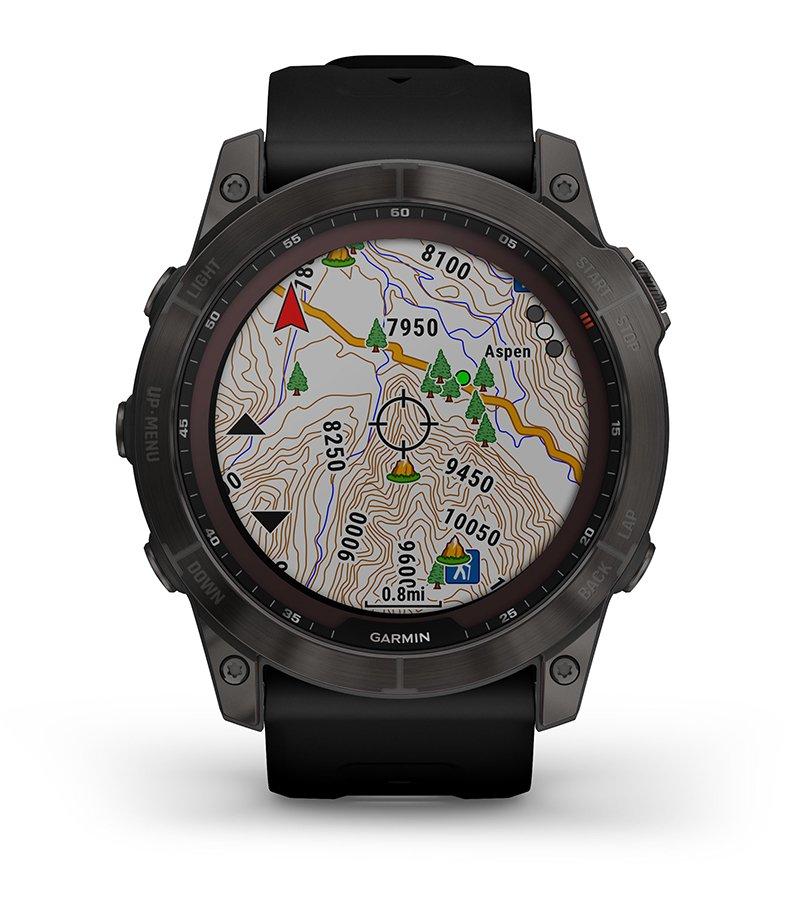 MULTI-BAND GNSS SUPPORT
Access multiple global navigation satellite systems (GPS, GLONASS, GALILEO). With the Sapphire Solar editions, get superior accuracy using technology previously only available to the military. Access multiple frequencies sent by navigation satellites for improved position accuracy in areas where GNSS signals are reflected, weak or typically don't penetrate.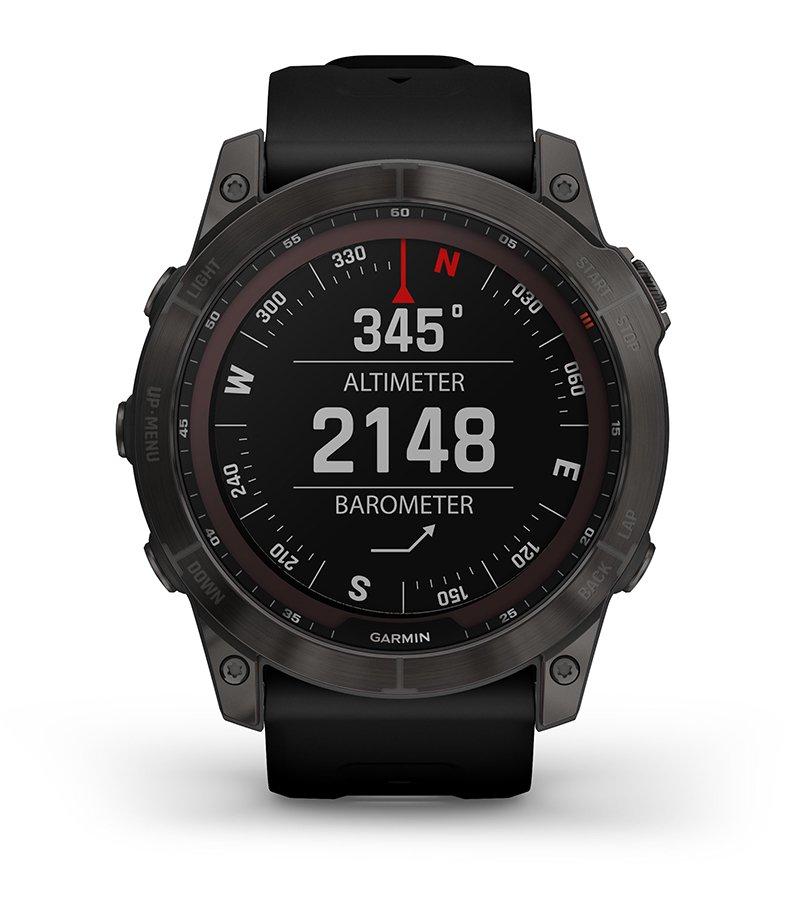 ABC SENSORS
Navigate your next trail with ABC sensors, including an altimeter for elevation data, barometer to monitor weather and 3-axis electronic compass.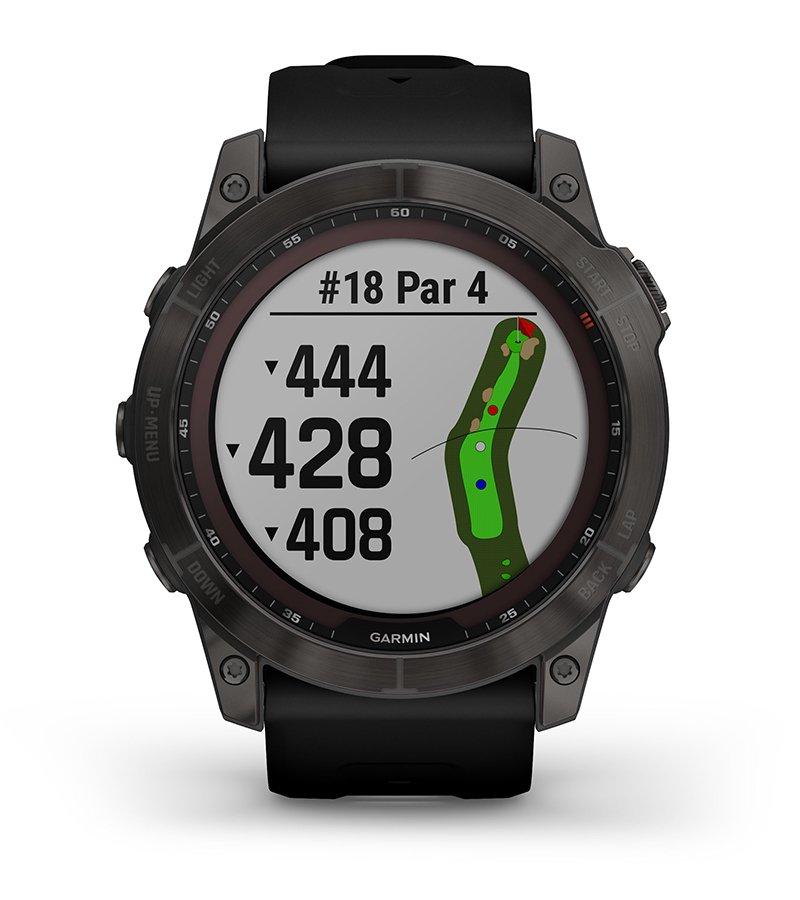 GOLF COURSE MAPS
Access full-color CourseView maps for more than 42,000 golf courses around the world, and get button targeting and the PlaysLike Distance feature.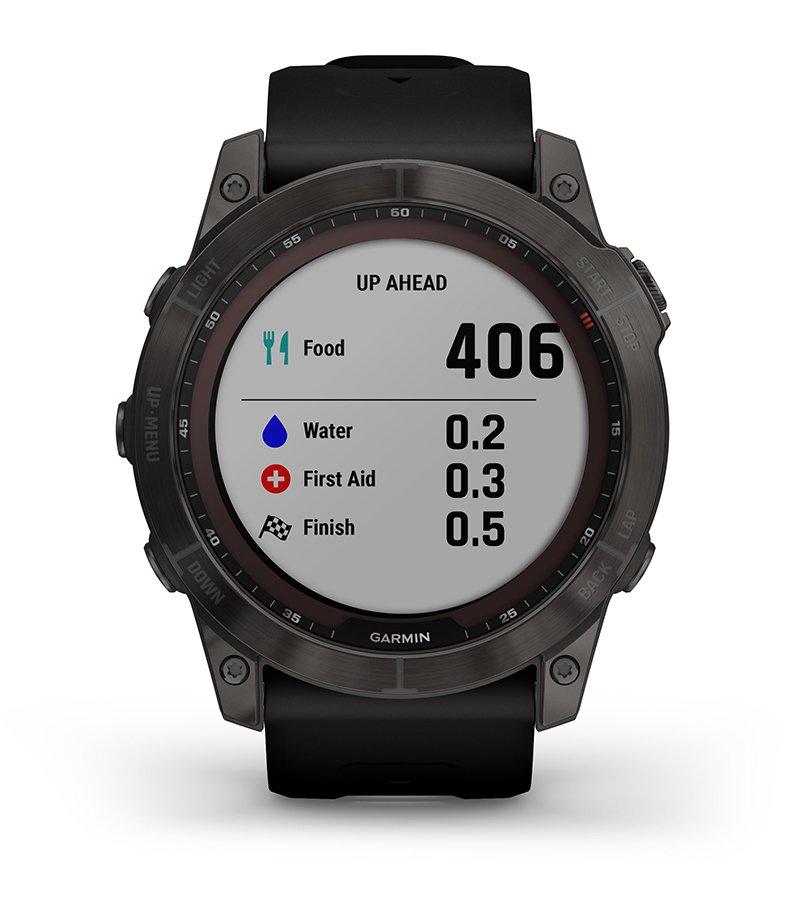 UP AHEAD
Get at-a-glance awareness for selected POI checkpoints ahead. View performance metrics, split times and distance/elevation — plus a summary of key trail points coming up.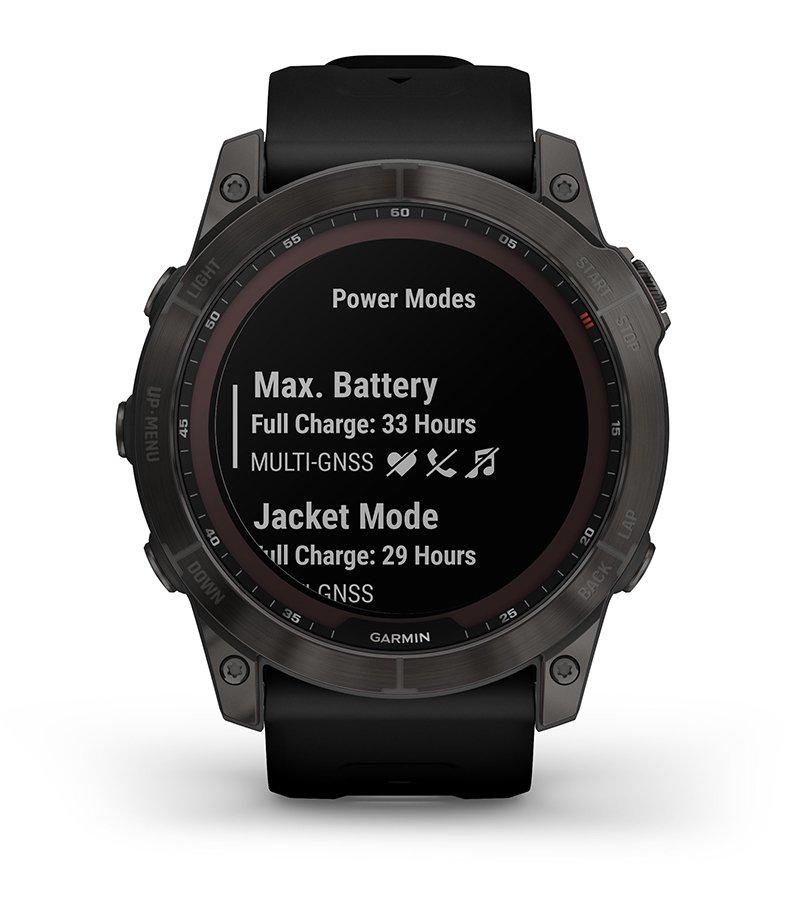 POWER MANAGER
View how various settings and sensors impact your watch's battery life, so you can make battery-extending changes on the fly.
Additional Features:
WRIST-BASED HEART RATE
Optical heart rate technology gauges activity intensity as well as heart rate variability to calculate your stress level. It also tracks underwater without a heart rate strap.
PULSE OX SENSOR
For altitude acclimation or sleep monitoring, a Pulse Ox sensor2 uses light beams at your wrist to gauge how well your body is absorbing oxygen.
SLEEP SCORE AND ADVANCED SLEEP MONITORING
Get a full breakdown of your light, deep and REM sleep stages. View it all on a dedicated widget that includes your sleep score and insights.
BODY BATTERY™ ENERGY MONITORING
Optimize your body's energy reserves, using heart rate variability, stress, sleep and other data to gauge when you're ready to be active or when you may need to rest
RESPIRATION TRACKING
See how you're breathing throughout the day, during sleep and during breathwork and yoga activities.
HEALTH MONITORING ACTIVITY
Using data from the watch's various body status sensors, this feature helps track your daily biometric and wellness trends at a glance.
HYDRATION TRACKING
Log daily fluid intake as a reminder to stay hydrated. When auto goal is enabled, you'll even see estimated sweat loss after an activity, and your goal will adjust accordingly.
SMART NOTIFICATIONS
Receive emails, texts and alerts right on your watch when paired with a compatible device.
MUSIC APPS
Download songs plus playlists from your Spotify, Deezer or Amazon Music accounts (subscription may be required). Use wireless headphones (sold separately) for phone-free listening.
GARMIN PAY™ CONTACTLESS PAYMENTS
Breeze through checkout lines with Garmin Pay contactless payment solution through participating providers.
SAFETY AND TRACKING FEATURES
When your watch and phone are paired, your live location can be sent to your contacts manually or — during select outdoor activities — automatically with built-in incident detection6