Our easy-to-use OMRON 5 Series Wireless Upper Arm home blood pressure monitor (BP7250) is powered by the OMRON Advanced Accuracy technology, which measures five times more data points for more consistent, precise readings. This OMRON-exclusive technology minimizes the impact your breathing and movements will have on your blood pressure reading results, helping to reduce measurement inconsistencies and errors.
The 5 Series Upper Arm Monitor stores up to 60 readings for one user, but when used with the free OMRON Connect app, it can support unlimited users and stores unlimited blood pressure readings. Conveniently view your trend graphs and charts, and share as needed with your family, caregivers, or healthcare professionals. The OMRON Connect app works with select iOS and Android devices (visitOmronHealthcare.com/connect for a list of compatible devices). It also works with Amazon Alexa-enabled devices using the OMRON Health skill.
This monitor also features another OMRON exclusive, an enhanced Irregular Heartbeat Symbol that not only alerts you if an irregular heartbeat was detected during your measurement, but also displays the number of irregular heartbeats detected (up to three) during your measurement. Ideally, you will want to track the average of three consecutive blood pressure readings every time you check your blood pressure and share these averages with your doctor. The OMRON Advanced Averaging feature automatically displays the average of up to the last three readings taken within the last 10 minutes.
Included with this monitor is the OMRON wide-range D-ring cuff, a soft contoured cuff designed for a more comfortable measurement. Whether you have a standard- or large-sized arm, the cuff comfortably fits adult arms from 9" to 17" in circumference.
In Box
Blood Pressure Monitor, Wide-Range D-Ring Cuff (fits arms 9″ to 17″ in circumference),
4 AA Batteries
Instruction Manual
Quick Start Guide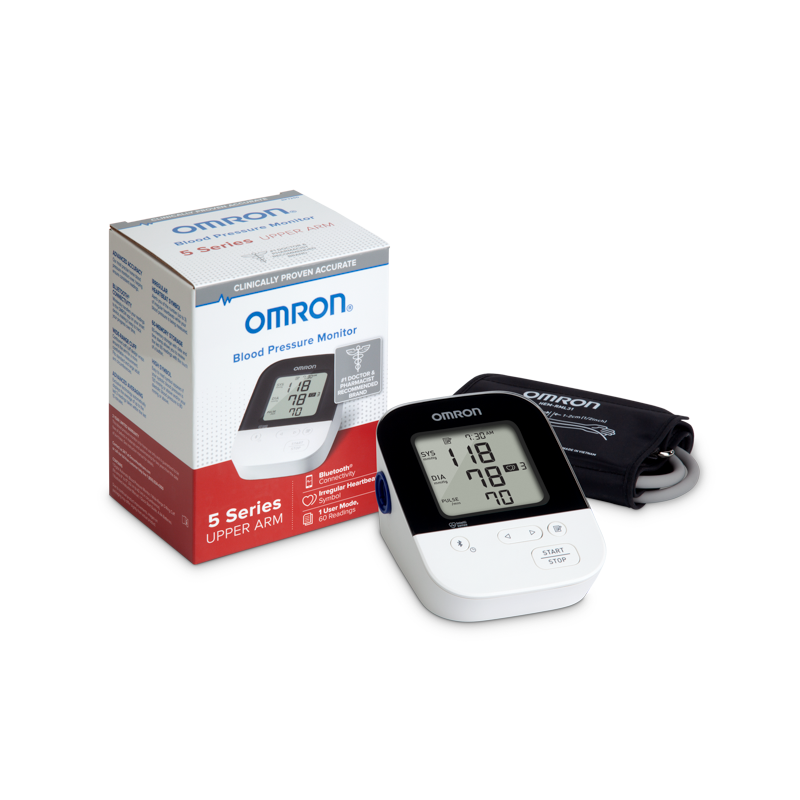 Dual LCD Display; Single User, 60-Reading Storage - shows your last reading right next to your current reading for a convenient and immediate comparison. When used with the free OMRON Connect app, it can support unlimited users and storage.
Advanced Accuracy Technology - measures five times more data points for consistent, precise blood pressure readings less affected by any breathing or movements during the measurement


TruRead Technology - allows you to automatically take 3 consecutive readings at intervals you can customize (15 seconds, 30 seconds, 60 seconds, or the optimal two-minute rest period between readings) and then displays the average



Irregular Heartbeat Symbol - alerts you to the number of irregular heartbeats (up to 3) while your blood pressure is being measured
NOTE: Unit operates on 4 AA batteries (included) and AC Adapter (not included)
Dimensions (approx.)
Length: 6", Width: 4.2", Height: 3.4
Weight: 12 oz.
UPC 073796267254
Features
NEW Bluetooth Connectivity
NEW Omron Connect App
NEW Irregular Heartbeat Count Feature
NEW Hypertension Indicator - "HIGH" icon
NEW Black & White Faceplate Design
NEW 1 user
NEW 60 Memory
Body Movement Detection
Advanced Averaging
Guest Mode
Date/Time Setting
Soft D-Ring Cuff (Wide Range fits 9-17 inch adult upper arms)
Compatible withSmall D-ring cuff HEM-CS24-B
Unit Warranty - 2 years
Cuff Warranty - 1 year
Includes 4AA batteries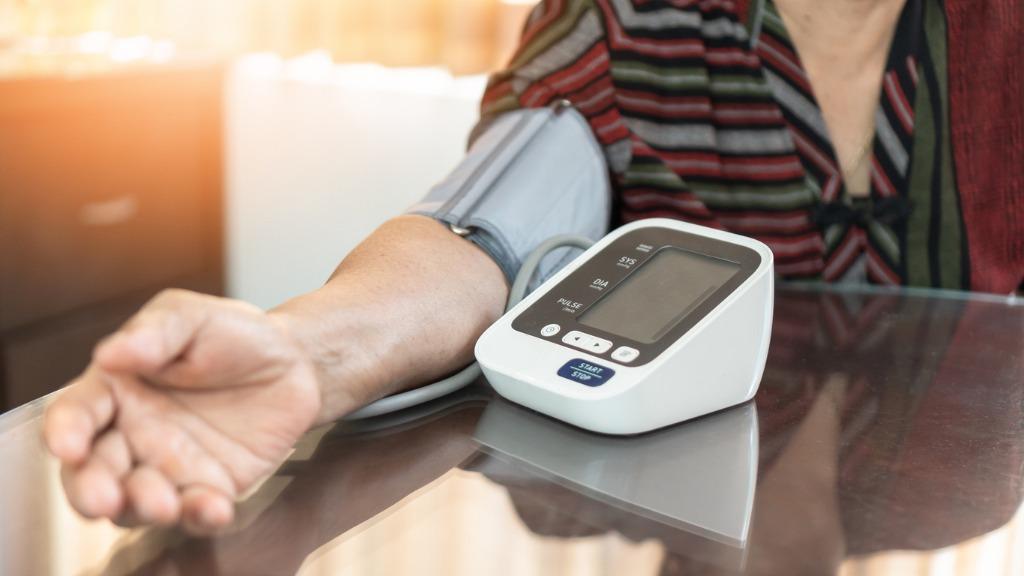 Upper Arm Blood Pressure Machines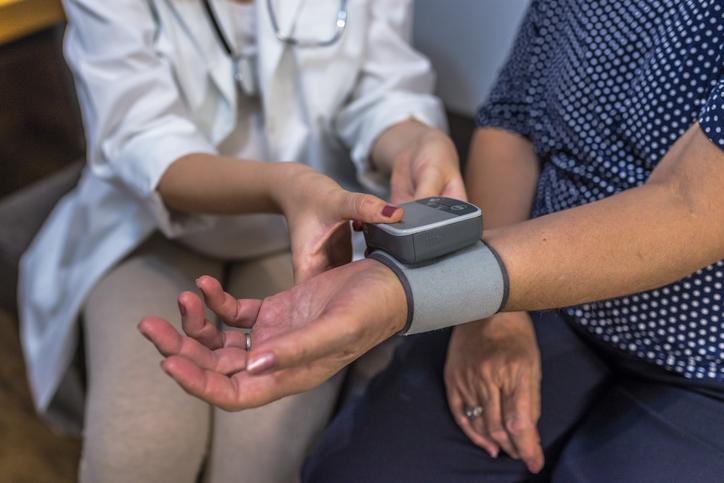 Wrist Blood Pressure Machines
Home use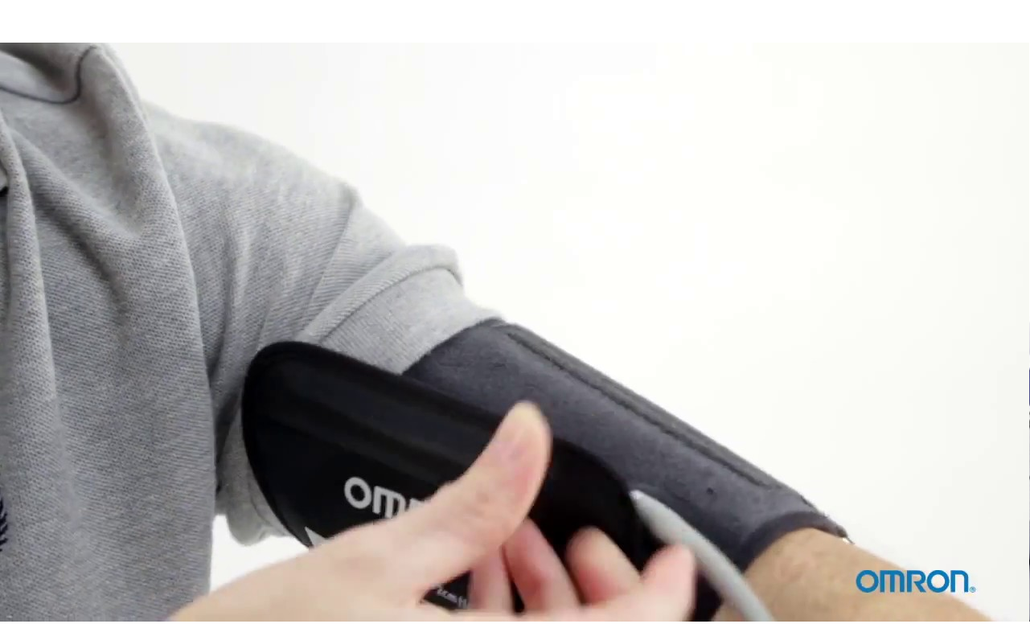 Omron Replacement Cuffs
Home use