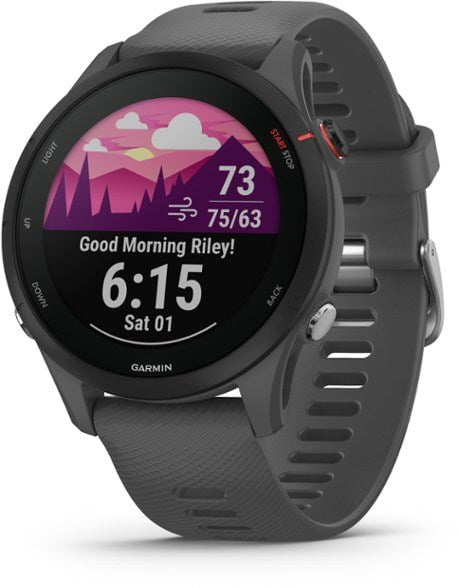 With Forerunner 255, you can get a continuous picture of your health, from training and recovery to sleep quality and overall wellness — and with up to 14 days of battery life in smartwatch mode and up to 30 hours in GPS mode.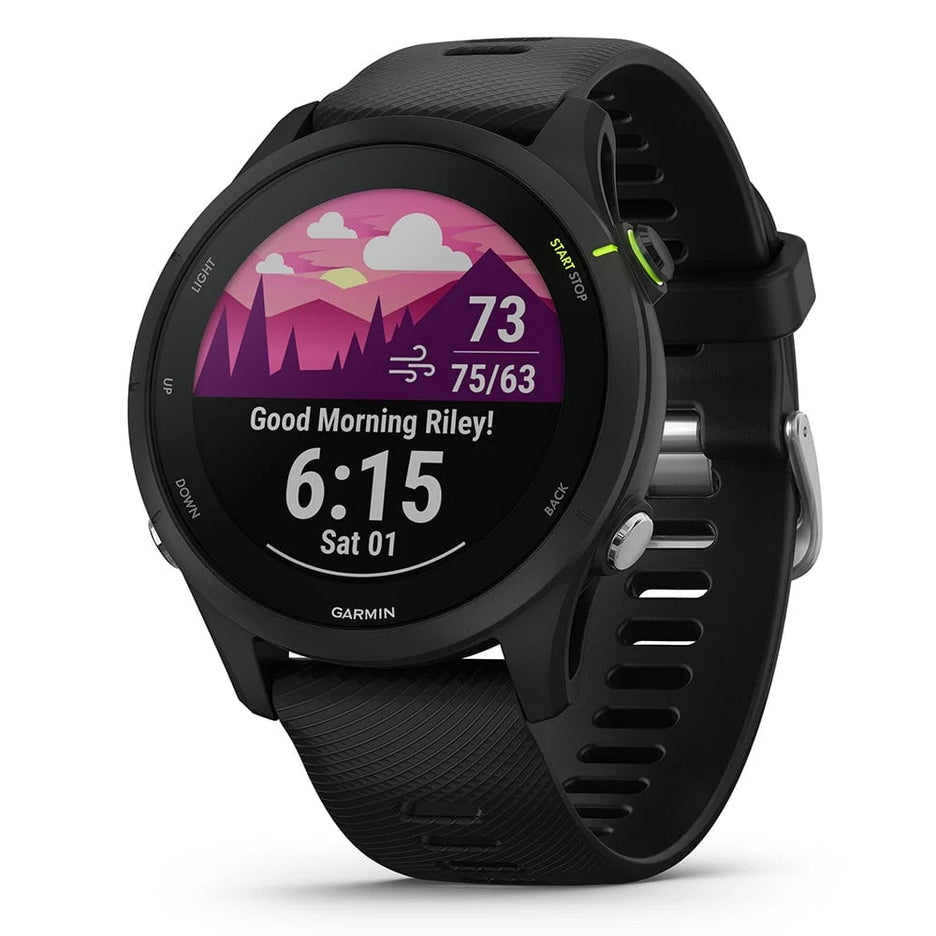 Smaller-sized Forerunner® 255S Music provides up to 12 days of battery life in smartwatch mode and up to 26 hours in GPS mode for a full picture of your health — from sleep to training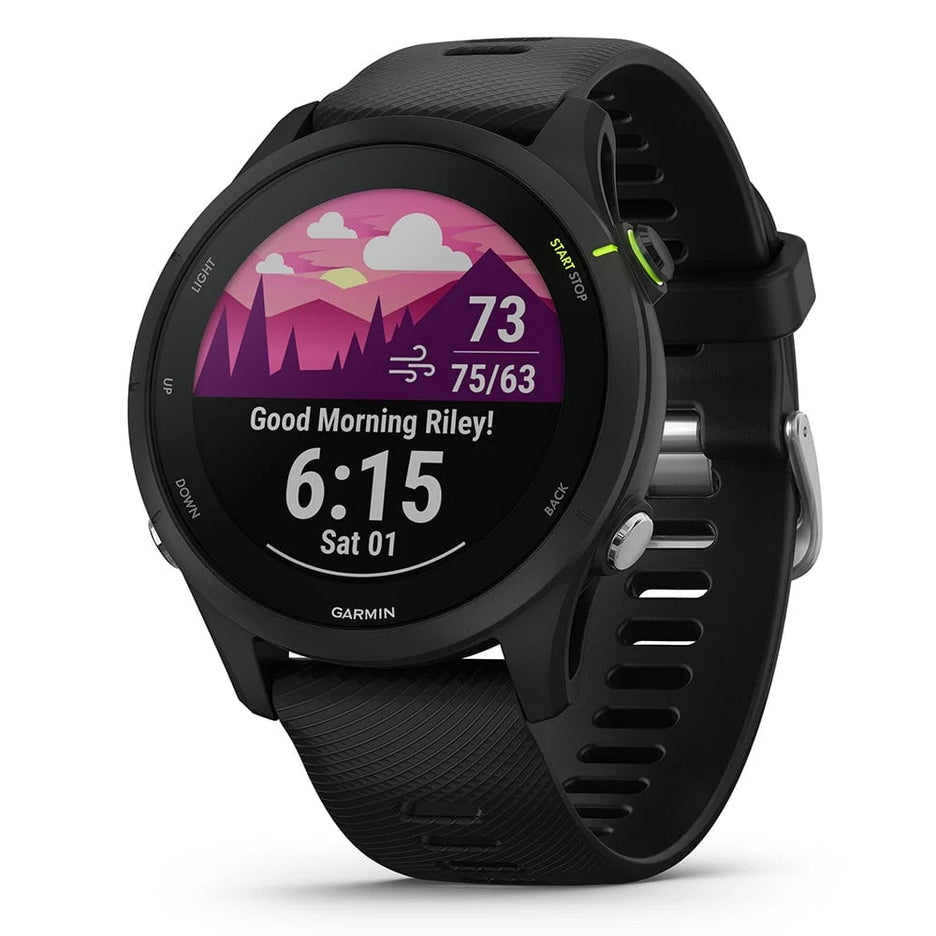 Run at a higher level with the Forerunner 255 smartwatch. These running smartwatches help you train and recover smarter with training status, running power, multi-band GPS and daily suggested workouts that adapt to your performance and goals.
Charge less, train more with up to 14 days of battery life in smartwatch mode and up to 30 hours in GPS mode.
MORNING REPORT
Receive an overview of your sleep, recovery, and training outlook as soon as you wake up — alongside HRV status and weather.
HRV STATUS
Gain a deeper understanding of your overall health, recovery, and training performance through heart rate variability while you sleep, based on technology developed by our Firstbeat Analytics™ team.
BUILT-IN SPORTS APPS
Tap into 30+ built-in activities, including the triathlon and open-water swimming profiles — new to the Forerunner 255 series.
RACE WIDGET
Get ready for your next race with training tips, personalized daily suggested workouts, and completion time predictions based on course details, weather, and performance.
DAILY SUGGESTED WORKOUTS
View your entire week of daily suggested workouts, which adapt after every run to match your performance and recovery as well as the races coming up in your Garmin Connect™ smartphone app calendar.
GARMIN COACH
Free adaptive training plans include 5K, 10K, and half-marathon programs, featuring guidance from expert coaches that adapt to you and your goals.
RUNNING POWER
When using a Running Dynamics Pod or HRM-Pro monitor, get a continuous measurement on your wrist of how much power you're applying to the road as you run, so you can manage your effort.
SAFETY AND TRACKING FEATURES
If you feel unsafe or if your watch senses that an incident occurred, the Assistance and incident detection features send your location to emergency contacts.
RECOVERY TIME
Know how long to recover before your next high-effort workout based on your latest training as well as overall stress, sleep, and daily activities outside of workouts.
PACEPRO
™

FEATURE

GPS-based pace guidance for a selected course or distance, so you can tailor your efforts to what's ahead.
TRAINING STATUS
Using new indicators such as HRV status, your recent exercise history, and performance, get easy insight into your overall effort — and whether you're training productively, peaking, or strained.
ACUTE LOAD
See your training history, and compare the intensity of your recent workouts to the optimal range to help improve your fitness.
TRAINING EFFECT
See how your workouts influence your endurance, speed, and power with aerobic and anaerobic training effect feedback.
PERFORMANCE CONDITION
While you run, get an analysis of your pace and heart rate for a real-time assessment of your current ability to perform
RUNNING DYNAMICS
When using a Running Dynamics Pod or HRM-Pro monitor, the Forerunner 255 watch measures crucial running metrics such as cadence, stride length, ground contact time and balance, and more.
STRESS TRACKING
Find out if you're having a calm, balanced or
stressful day

. Relax reminders will even prompt you to do a short breathing activity when the watch detects that you're feeling stressed
VISUAL RACE PREDICTOR
Based on your running history and overall fitness level, get an estimate of what your pace could be for a 5K, 10K — or even a marathon. Plus, trend data highlights your training's impact over time.
CROSS-TRAINING
Mix up your training with different types of workouts. Free HIIT, strength, cardio, yoga and Pilates workouts come preloaded on the watch, and you can download more from the Garmin Connect app.
WRIST-BASED HEART RATE
The watch constantly samples your heart rate with our latest-generation heart rate sensor and will alert you if it stays too high or too low while you're at rest.
BODY BATTERY
™

ENERGY MONITORING

Track your body's energy levels so you can find the best times for activity and rest2.
IMPROVED SLEEP MONITORING AND SLEEP SCORE
After waking up, you'll receive a sleep score, as well as a breakdown of your sleep stages, Pulse Ox, and respiration, alongside detailed insights for improved sleep quality.
PULSE OX SENSOR
Monitors blood oxygen saturation levels to support advanced sleep monitoring and altitude acclimation.

WOMEN'S HEALTH TRACKING
Use the Garmin Connect app to track your menstrual cycle or pregnancy.

INTENSITY MINUTES
Tells you when during the day you earned them and during what activity.