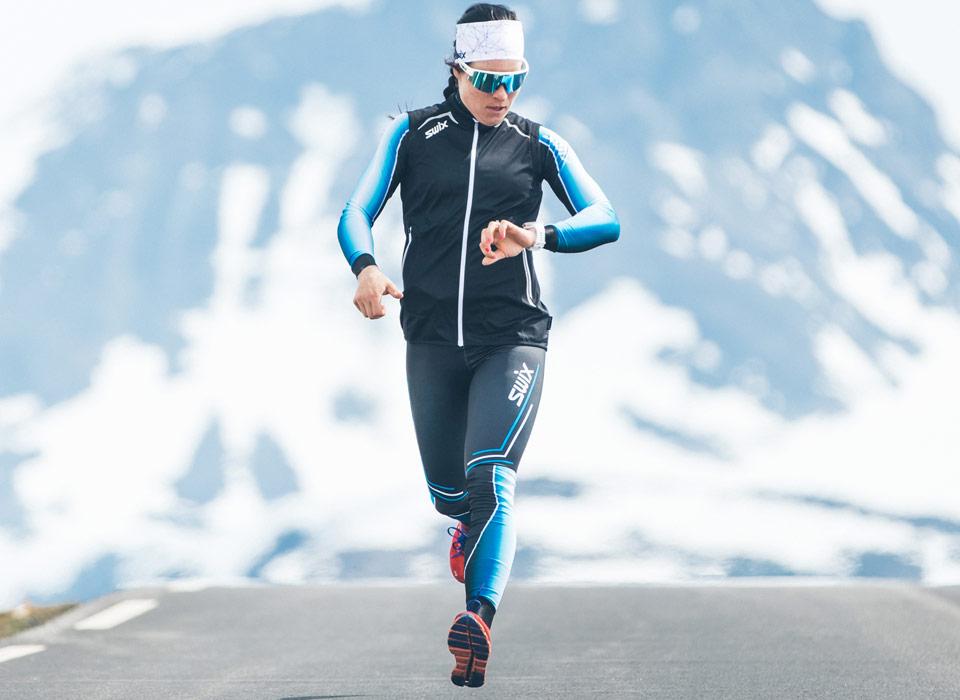 Running Program
Train for a running event with a personal and adaptive training plan in Polar Flow. Choose from four different targets, 5K, 10K, half marathon and marathon, and get a training plan that fits you and your goals.
Running Index
Shows how your running performance is developing. Polar's Training Benefit immediately explains what type of physiological benefit you gained from your training.
Activity Guide
See how active you've been during the day and get practical guidance for reaching your daily activity goal
Smart calories
Keep track of the calories you've burned. Polar M200 continuous heart rate measurement combined with 24/7 activity tracking ensure your calories burned are measured accurately and reliably.
5-MINUTE FITNESS TEST
All you need is 5 minutes and a place to rest to take this test. Developed in conjunction with leading researchers, Polar's Fitness Test determines your current fitness level and allows you to measure your progress over time
Training Benefit
Get motivating feedback immediately after training, describing the physiological benefit you gained from your training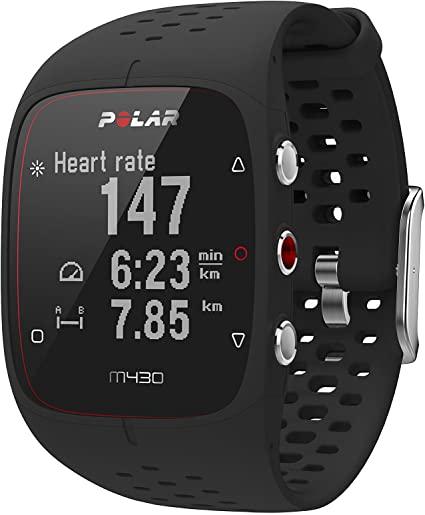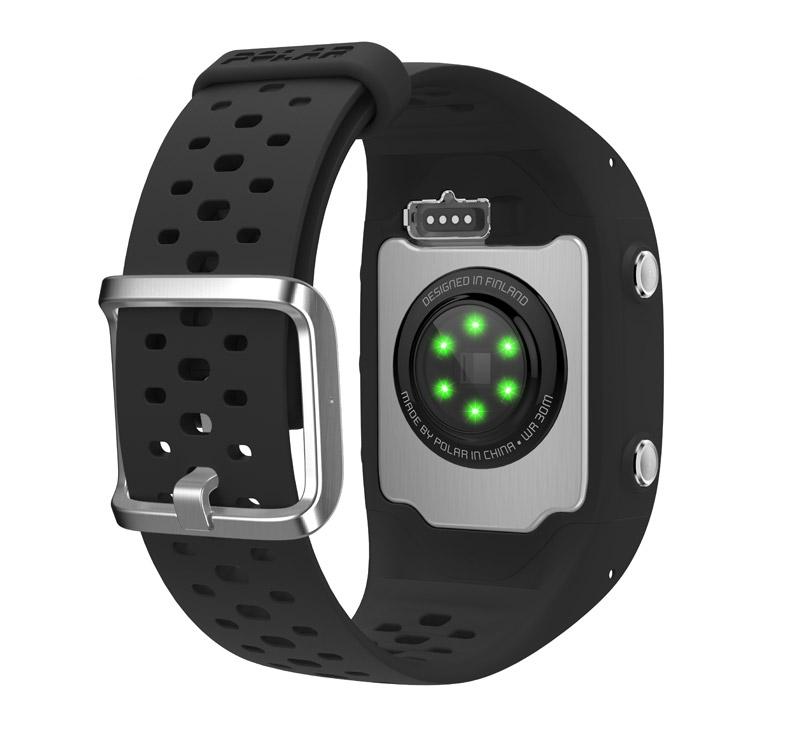 Continuous Wrist Based Heart Rate
Get a comprehensive view on how your heart behaves during your day with 24/7 heart rate monitoring.
Sleep Plus
Sleep is vital to your recovery and performance. Polar Sleep Plus™ automatically detects the timing, amount, and quality of your sleep. Because it's what you do in the off hours that can make or break your next session
Key Benefits:

Optical Heart Rate: Continuous, accurate heart rate without a chest strap via a 6 LED optical sensor.
Integrated GPS: Speed, distance, pace and route tracking.
24/7 Activity Tracking: Track your daily activity, including steps, calories and sleep with the guidance to help you reach your activity goal.
Mobile Connectivity: Seamless communication via Bluetooth Smart to Polar Flow app on your mobile device.
Vibration Alerts: Be alerted with vibrating smart notifications of incoming calls, messages or during training and periods of inactivity.
Rechargeable Battery: Three different GPS recording options to choose from allowing for 8 hours to nearly 30 hours of training time.
Smart Coaching
Polar's unique Smart Coaching features offer the best possible guidance on how to develop your training as well as helpful feedback on your progress.
Wrist-Based Heart Rate: Display your current heart rate and what heart rate zone you're in, without a chest strap. The M430 is also compatible with the H10 heart rate sensor.
Running Program: Whether training to set a personal best in a 5k or running your first marathon, set a race target and let our online program guide you towards your goal.
Training Benefit: Training Benefit Delivers motivating feedback immediately after the run describing the effect of the training session.
Running Index: Calculated after every run and based on your heart rate and speed data, Running Index allows one to see how efficient their running is.
Fitness Test: An easy 5-minute test that measures your aerobic fitness. Taking the test regularly allows you to track your progress.
⚠ Ca Residents: Proposition 65 warning
WITNESS YOUR DATA COME ALIVE
Discover Polar Flow, the ultimate training platform that breathes life into all your data. With extensive training analysis tools, an automatic training diary, progress reports, and much more, Polar Flow will help you achieve all your training goals.
SYNC YOUR DATA TO OTHER SERVICES
With Polar Flow, you can automatically sync all your training data to other apps as well, such as Strava or TrainingPeaks.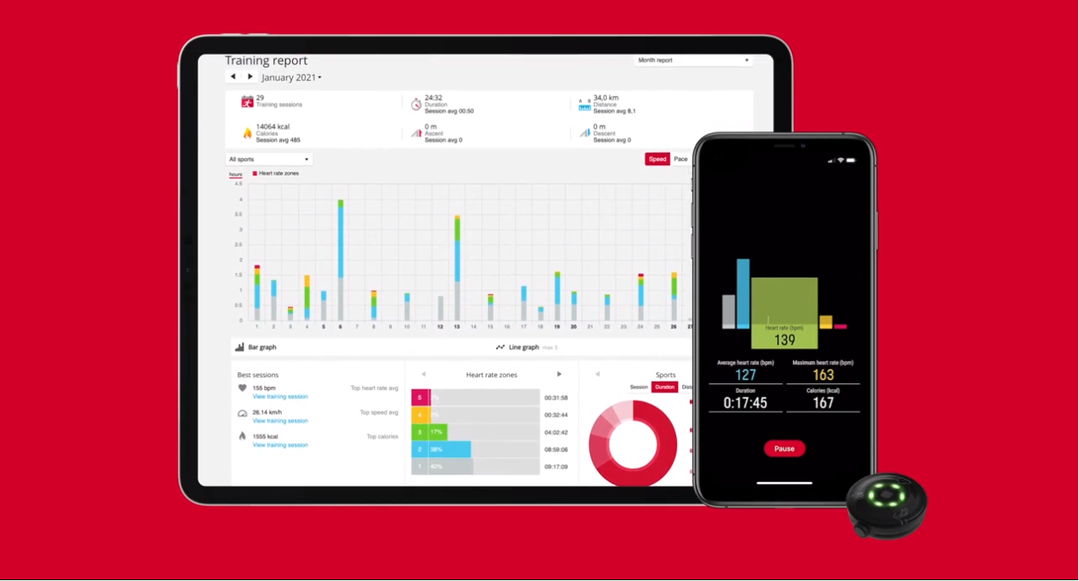 TECH
Integrated GPS with SiRFInstantFix™ satellite prediction technology
6 LED optical heart rate sensor
Activity sensor
Manual and auto laps
Vibra alert
Waterproof (suitable for swimming)
8 MB Flash memory
Rechargeable 240 mAh lithium polymer battery
Battery duration:

Up to 8 hours of training time with GPS and optical heart rate and up to 30 hours of training time with low power GPS mode
Daily training session, continuous heart rate tracking and notifications: 5 days
No training sessions, no notifications, continuous heart rate tracking: 14 days

CONNECTIVITY
Custom USB cable for data sync with PC or Mac
Bluetooth Smart with mobile and sensors
Polar Flow web service compatibility with Mac OS X 10.6, OS X 10.7, OS X 10.8, or later, and PC Windows XP, Windows 7, Windows 8, or later
Polar Flow mobile app compatibility
Updatable software
UI languages: English, German, French, Spanish, Italian, Portuguese, Finnish, Swedish, Norwegian, Danish, Dutch, Japanese, Chinese (Simplified), Polish, Russian, Turkish, Czech, Indonesian
In the Box
Polar M430 GPS running watch
Charging cable
Polar M430 user manual
Information note
Polar Verity Sense Optical Heart Rate Sensor
Chargeable battery & Waterproof (50 m)
Long battery life: 24 hours on a single charge
Internal memory: 16 MB, 600 hours of training time
Works with all Polar Bluetooth® devices, most sports and smart watches, Polar Flow and many other fitness apps
Works with ANT+ devices such as gym equipment and cycling computers