Polar Vantage M2 GPS Watch

Let the athlete in you shine with the wide range of features on offer in the Polar Vantage M2. Visualize your body's performance and find the personalized guidance you need to consistently keep reaching your goals – today, tomorrow, we're with you all the way.
Some Added Features over Vantage M
Energy Sources

- See how your body uses different energy sources during a training session. Polar Vantage M2 divides your energy usage into carbs, proteins, and fats.

Music controls

- Easily navigate around your playlist and adjust volume straight on your watch. You also get a weather forecast and push notifications to your watch screen.

FuelWise

™smart fueling assistant, learn to refuel and maintain adequate energy levels during your long sessions.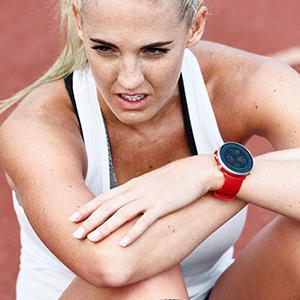 Advanced Wrist-based Heart Rate
Polar Precision Prime sensor fusion technology makes sure Polar Vantage M monitors your heart rate from the wrist accurately even when the going gets tough
Running Program & Running Index
See how your running performance is developing with the help of a personalized, adaptable running plan. Your Running Index score is an estimate of your running VO2max and it's calculated after every run.
Training Load Pro
Get a comprehensive view of how your training sessions strain your body in different ways. Session-by-session and long-term monitorin
Smart calories
Keep track of the calories you've burned. Polar Vantage M continuous heart rate measurement combined with 24/7 activity tracking ensure your calories burned are measured accurately and reliably.
Sport profiles
Polar provides over a hundred different sport profiles which enables you to choose the right one for your training sessions.
Phone notifications
Phone notifications allow you to see notifications from your phone directly on the screen of your Vantage M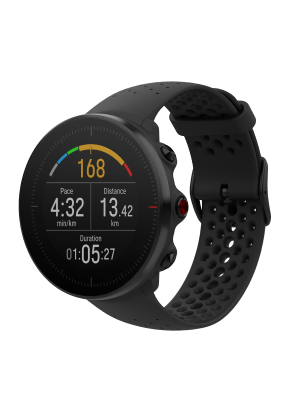 Push limits using data driven insight with the Polar Vantage M Multisport GPS training watch. Get the most accurate data ever with Polar Precision Prime Heart Rate sensors while Load Pro calculates how training affects your body for a complete picture.
Go long with up to 30 hours of GPS swim, bike or run. The Vantage M is a waterproof watch, heart rate watch, and multisport fitness tracker and activity tracker all in one. Take your fitness to the next level with cutting-edge sports activity tracking. Gain the real advantage with Vantage M.
Features:
Advanced wrist-based heart rate

- Polar Vantage M tracks heart rate with the Precision Prime™ sensor fusion technology

Nightly Recharge™

- See how well you recover from your day during the night.

Sport profiles

- Polar Vantage M supports over 130 different sports. Add your favorite sports to your Polar Vantage M in Polar Flow.

Training Load Pro

- Quantify the strain of your training session and see how your training strains your body

Sleep Plus Stages™

- Follow your sleep stages and get insights to your sleep quality

Swimming metrics

- Follow your progress in the pool. Polar Vantage M automatically detects your heart rate, swimming style, distance, pace, strokes and rest times. Distance and strokes get tracked also in open water swimming.

24/7 activity tracking

- Polar Vantage M tracks steps, distance, calories and sleep and gives you a personalized activity goal for each day.

Smart Calories

- Know exactly how many calories you've burned based on your weight, height, age, gender, your individual maximum heart rate (HRmax) and how hard you're training

Continuous Heart Rate

- Get a comprehensive view on how your heart behaves during your day. Continuous heart rate monitoring gives you even more accurate calorie burn and activity data and tells you the lowest and highest heart rate of your day


FitSpark™

daily training guide - Get ready-made daily workouts that match your recovery, readiness and training history

Running Program

- Training hard is good, training smart is better. Polar's scientifically-validated Smart Coaching delivers the tools you need to achieve your goals with efficiency and precision.

Running Index

- Find out your running VO2max and follow how your running performance is developing
Training Benefit

- Get motivating feedback immediately after training describing the effect of the session

Serene™ breathing exercise

- Relax your body and calm down your mind with the help of a guided breathing exercise

Fitness Test

- Test your fitness level easily in just 5 minutes without breaking a sweat
⚠ Ca Residents: Proposition 65 warning
WITNESS YOUR DATA COME ALIVE
Discover Polar Flow, the ultimate training platform that breathes life into all your data. With extensive training analysis tools, an automatic training diary, progress reports, and much more, Polar Flow will help you achieve all your training goals.
SYNC YOUR DATA TO OTHER SERVICES
With Polar Flow, you can automatically sync all your training data to other apps as well, such as Strava or TrainingPeaks.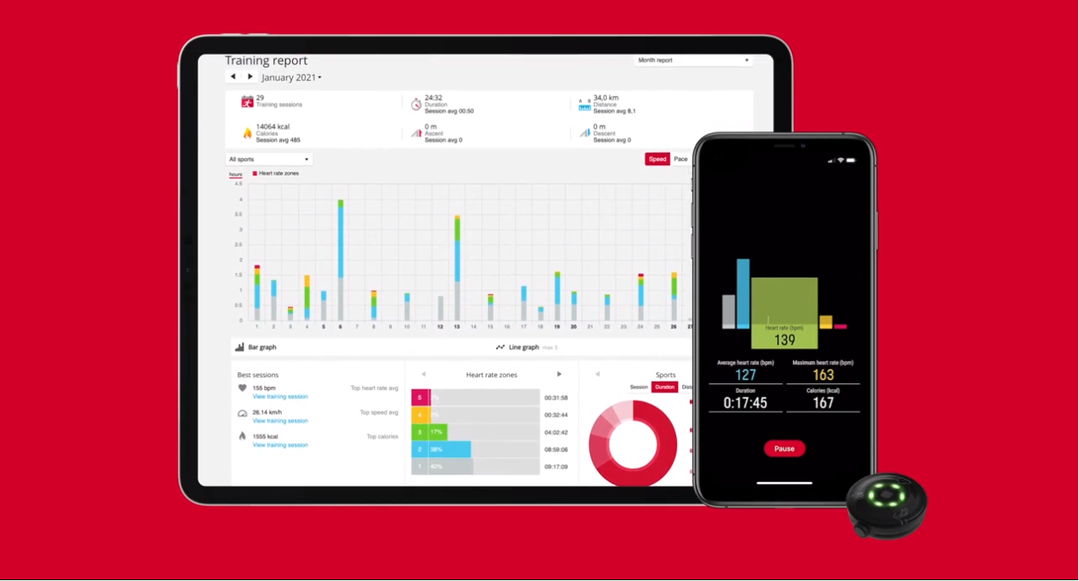 Polar Verity Sense Optical Heart Rate Sensor
Chargeable battery & Waterproof (50 m)
Long battery life: 24 hours on a single charge
Internal memory: 16 MB, 600 hours of training time
Works with all Polar Bluetooth® devices, most sports and smart watches, Polar Flow and many other fitness apps
Works with ANT+ devices such as gym equipment and cycling computers