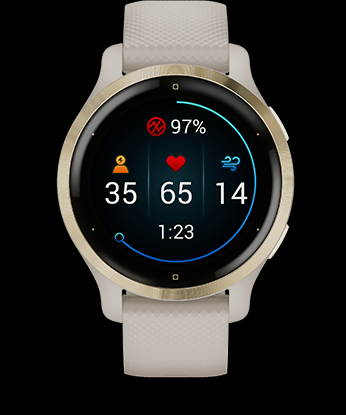 HEALTH SNAPSHOT™ FEATURE
Log a 2-minute session to record key stats, including heart rate, heart rate variability, Pulse Ox, respiration and stress. Then generate a report with those stats via the Garmin Connect™ app on your compatible smartphone to share.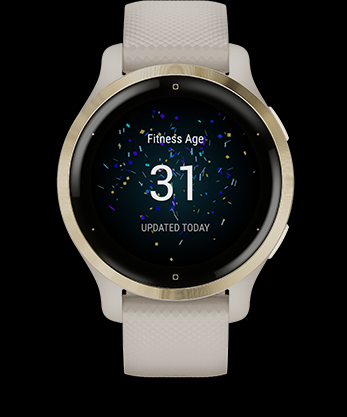 FITNESS AGE
This feature uses chronological age, your weekly vigorous activity, resting heart rate and BMI or body fat percentage4 to estimate if your body is younger or older than you are. And you can get tips to lower your fitness age.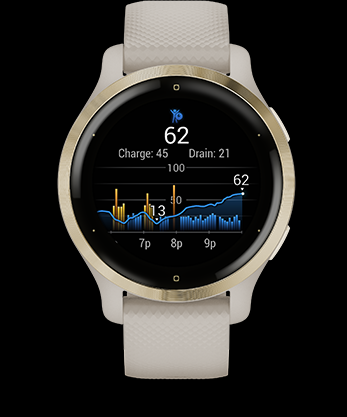 BODY BATTERY™ ENERGY MONITORING
See your body's energy levels throughout the day so you can find the best times for activity and rest.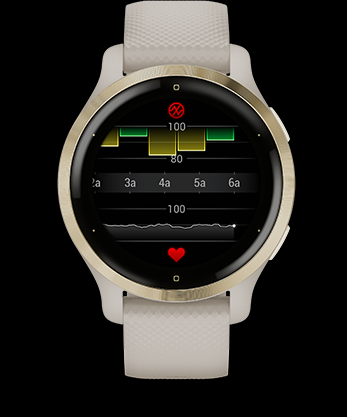 PULSE OX SENSOR
Use the Pulse Ox sensor to spot check your blood oxygen saturation at any point during the day, or for part of the night as you sleep, to show how well your body is absorbing oxygen.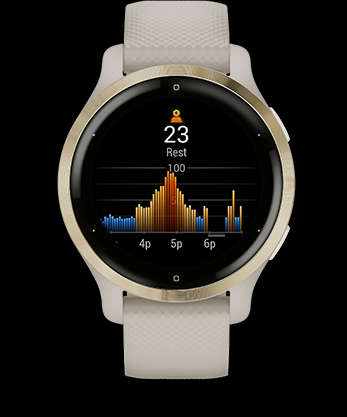 STRESS TRACKING
Find out if you're having a calm, balanced or stressful day. Relax reminders will even prompt you to do a short breathing activity when you're feeling stressed. Article about Stress Score while suffering from the Flu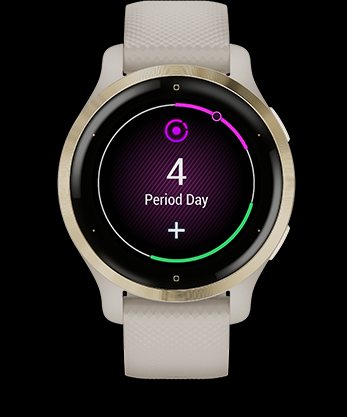 WOMEN'S HEALTH TRACKING
Use the Garmin Connect™app to track your menstrual cycle or pregnancy. Log symptoms, get exercise and nutrition education, and more. Even get details on your wrist with the Menstrual Cycle Tracking widget and Pregnancy Tracking app.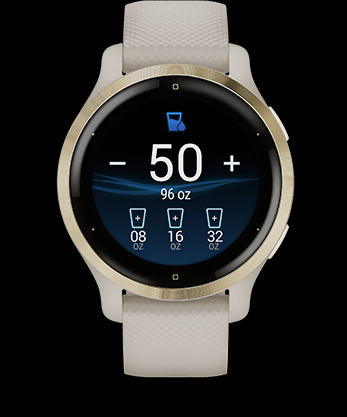 HYDRATION TRACKING
Log your daily fluid intake as a reminder to stay hydrated. You can even have an auto goal for hydration that adjusts based on how much sweat you lose during activities.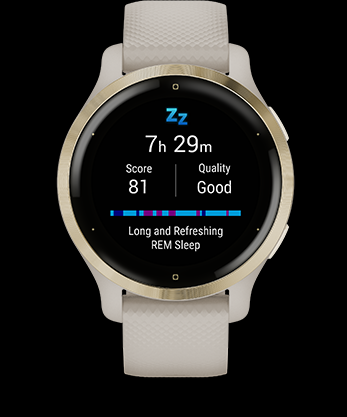 ADVANCED SLEEP SCORE - MONITORING
Get a score for your sleep's quality and insights on how you can do better. Even keep track of the different sleep stages as well as heart rate, stress, Pulse Ox and respiration.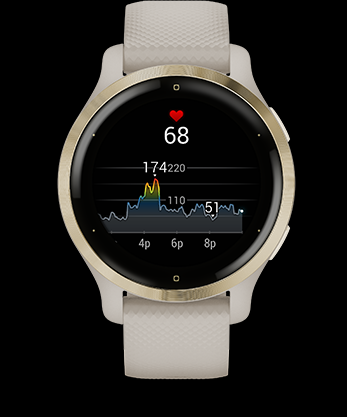 WRIST-BASED HEART RATE
The watch constantly samples your heart rate and will alert you if it stays too high or too low while you're at rest. It also helps gauge how hard you work during activities, even underwater.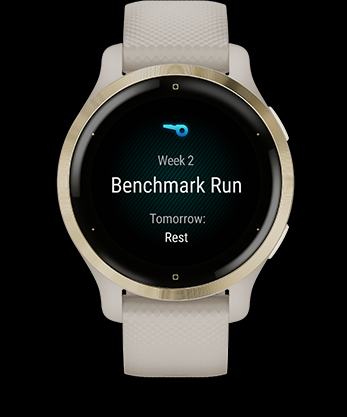 GARMIN COACH
Get a personal running coach on your wrist, for free, to help you train for your next 5K, 10K or half-marathon.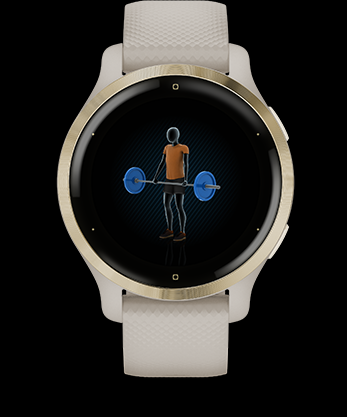 ANIMATED, ON-SCREEN WORKOUTS
Easy-to-follow, animated cardio, strength, yoga and Pilates workouts come preloaded on the watch, and you can download more from the Garmin Connect app.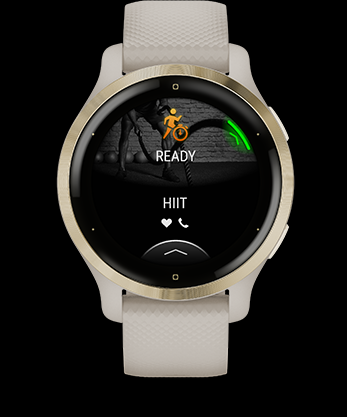 HIIT WORKOUTS
Use this new activity profile with different timers to track your HIIT workouts, including AMRAP, EMOM, Tabata and custom. Set the number of rounds, work/rest intervals and more.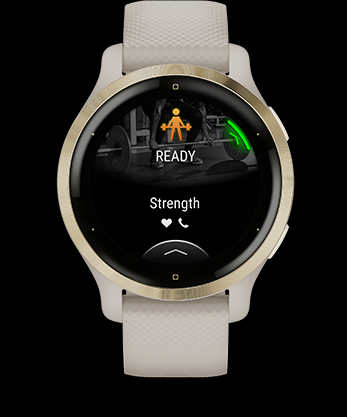 CREATE WORKOUTS
Choose from more than 1,400 exercises to build your own workouts in the Garmin Connect app on your compatible smartphone. Then download them to the watch.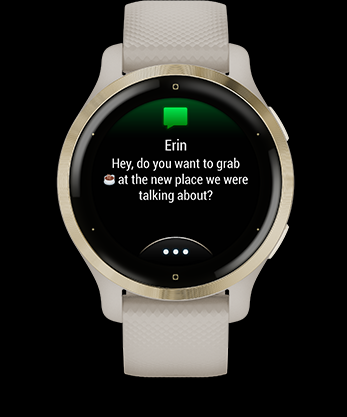 SMART NOTIFICATIONS
Receive emails, texts and alerts right on your watch when paired with a compatible smartphone. You can even respond to texts if you have an Android™ phone.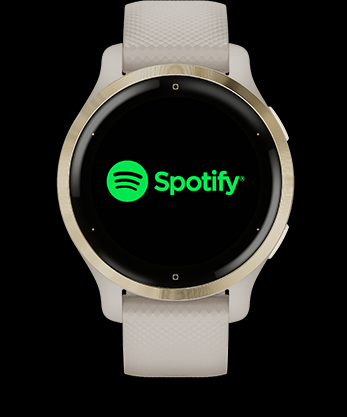 MUSIC
Download songs plus playlists from your Spotify®, Deezer or Amazon Music accounts (subscription may be required). Use wireless headphones (sold separately) for phone-free listening.
This GPS smartwatch has advanced health monitoring and fitness features to help you better understand what's going on inside your body. It feels good to move. Switch up your activities with animated workouts and more than 25 built-in indoor and GPS sports apps.
Feed your soul with your favorite music, stored right on your wrist for phone-free listening when paired with wireless headphones (sold separately). And battery life up to 5 days with rapid recharging lets you get an uninterrupted picture of your health. This is what it's all about. Mind and body — connected by Garmin.

• Suit your style with a smartwatch that's available in two colors and features a bright AMOLED display
• Know your body better with extensive health monitoring features including health snapshot, Body Battery™ energy levels, sleep score, fitness age, stress tracking and more (this device is intended to be an estimation of your activity and metrics; it is not a medical device)
• Find new ways to keep your body moving with more than 25 built-in indoor and GPS sports apps, including walking, running, cycling, HIIT, swimming, golf and many more
• Use preloaded workouts that include cardio, yoga, strength, HIIT and Pilates, create your own in the Garmin Connect™ app on your compatible smartphone, or try Garmin Coach free adaptive training plans to help you prepare for your next running challenge
• Download up to 750 songs to your watch, including playlists from Spotify®, Amazon Music or Deezer (may require a premium subscription), and connect with wireless headphones (not included) for phone-free listening
• With a supported country and payment network, leave your cash and cards at home; Garmin Pay™ contactless payments let you pay for purchases on the go
• Never miss a call, text or social media alert with smart notifications delivered right to your wrist — when paired with a compatible Android™ or Apple® smartphone
• When paired with a compatible smartphone, safety and tracking features include incident detection (during outdoor activities) and assistance, both of which send a message to your emergency contacts with your live location
• Get an uninterrupted picture of your health, thanks to battery life of up to 11 days in smartwatch mode and up to 8 hours in GPS mode with music, plus rapid recharging and battery saver mode
• Personalize Venu 2 with watch faces, apps and widgets from our Connect IQ™ Store and sync with the Garmin Connect™ app on your compatible smartphone to review your health and fitness data in detail

Battery Life:
Venu 2: up to 11 days in smartwatch mode
Venu 2s: up to 10 days in smartwatch mode
In the Box
Garmin Venu 2 GPS Watch
Charging/data cable
Documentation
⚠ Ca Residents: Proposition 65 warning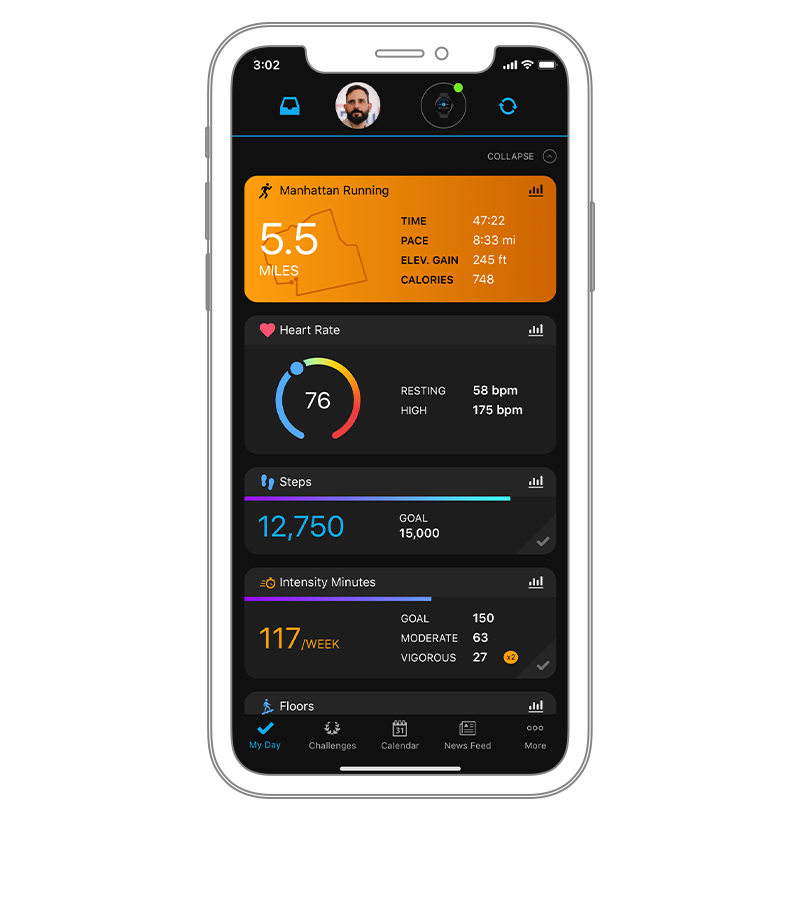 AT-A-GLANCE DATA
Colorful activity cards let you see all your vital statistics. Different colors represent each activity, so you always know exactly what you're looking at. Tap in for more detailed information.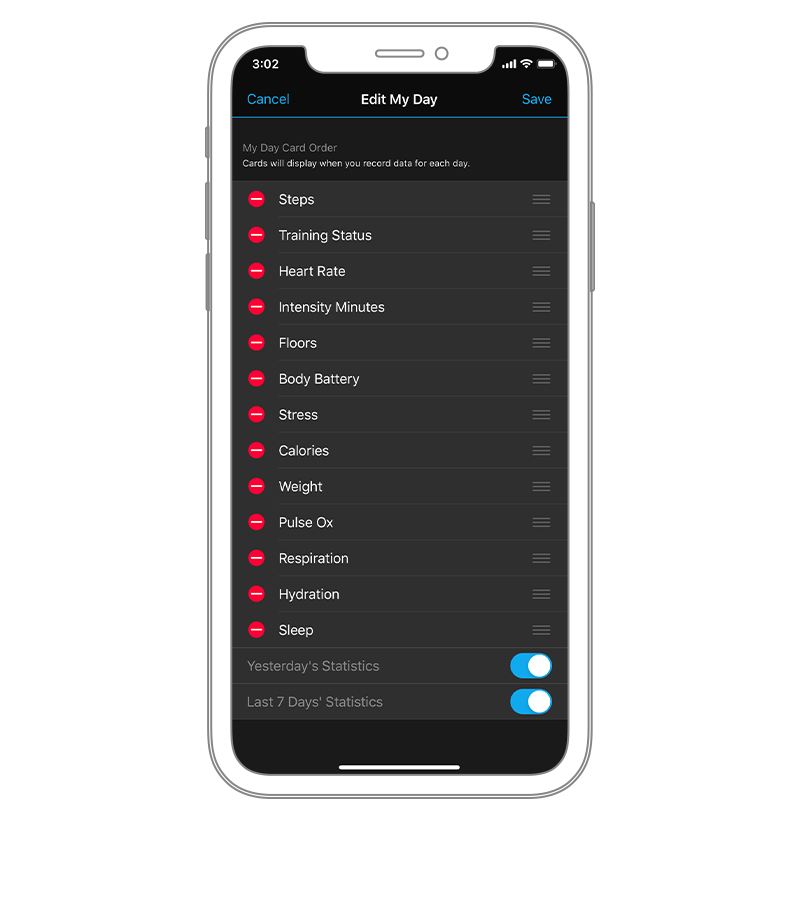 CUSTOM DASHBOARD
Garmin Connect is all about your experience and your goals. Customize the cards you want to appear on your "My Day" dashboard.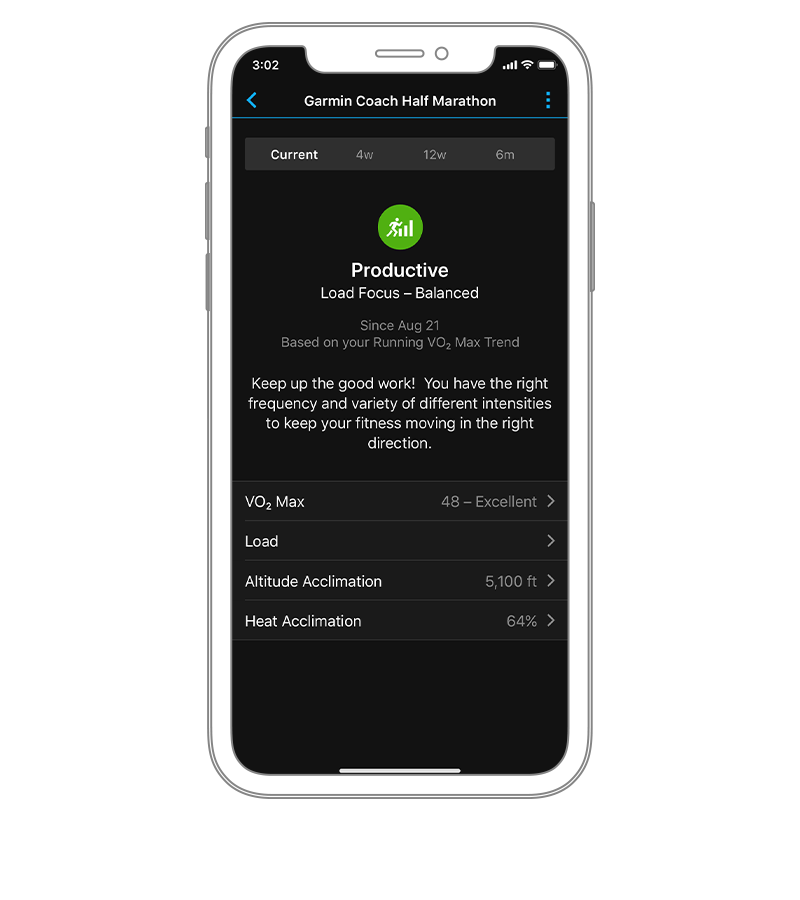 PERFORMANCE STATS
Whatever your device tracks, view it here. Monitor everything from your training status and VO2 max to functional threshold power and more to help you beat your goals.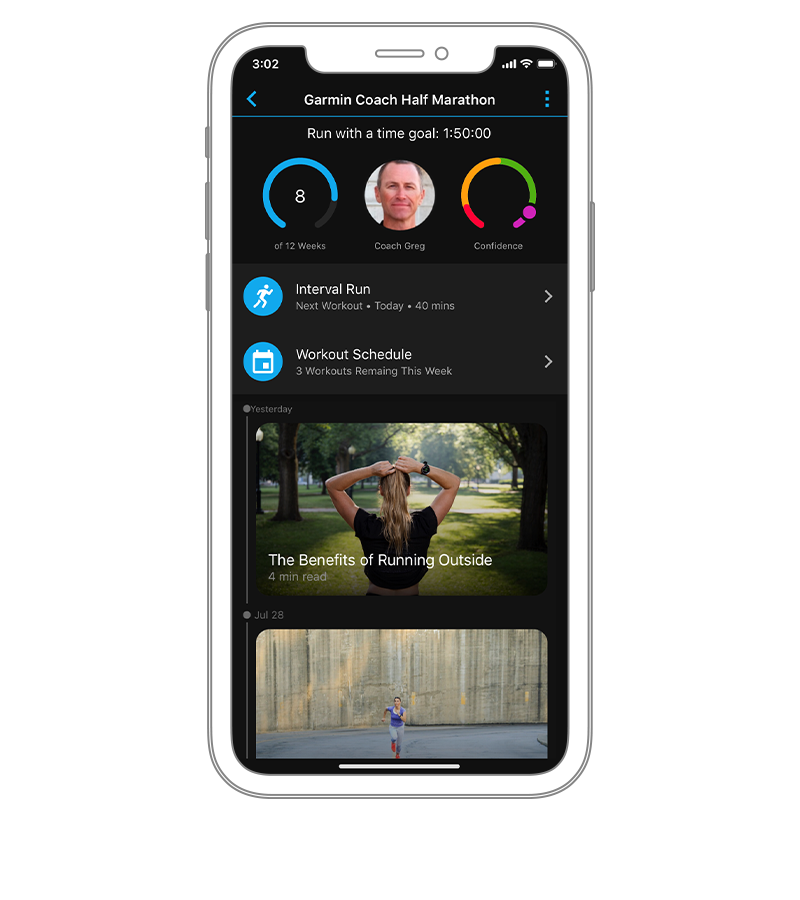 GARMIN COACH
Train for a 5K, 10K or half-marathon race with free expert coaching and a dynamic training plan that shifts, based on your goals and performance. Workouts sync right to your watch.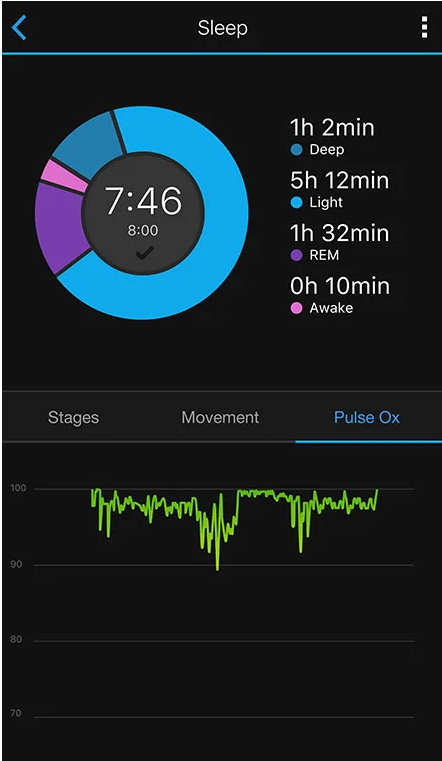 Pulse Ox at Your Wrist - App View
The Pulse Ox sensor on Venu estimates your body's blood oxygen saturation level. Your Pulse Ox measurements are dependent upon a number of factors, including your overall health and fitness. Checking your Pulse Ox can help gauge how your body is absorbing oxygen. Turn on the feature to gauge your SpO2 overnight, or use it to take a spot measurement anytime to learn more about your body.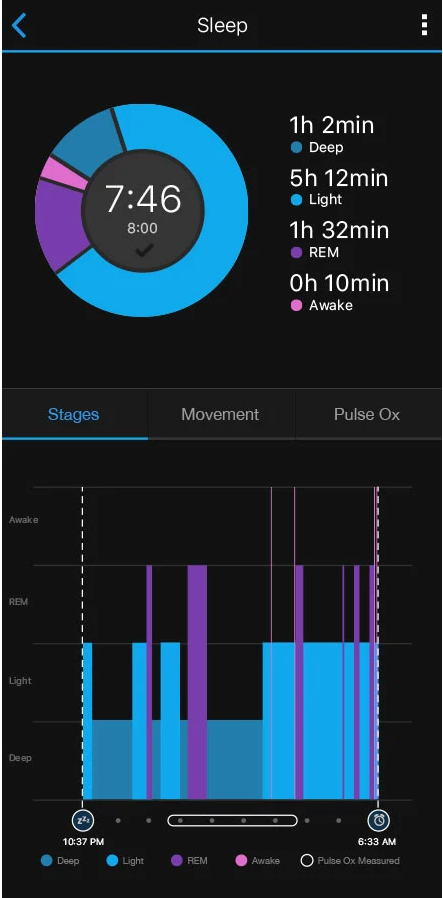 Advanced Sleep Monitoring - App View
Sleep is important to your overall health, well-being and physical performance. To give you an idea of how you're sleeping, Venu tracks your light, deep and REM stages of sleep, along with movement throughout the night. For added insight, turn on the Pulse Ox feature to view your blood oxygen levels during your sleep. When you wake up, you can easily review and compare your sleep stats in Garmin Connect App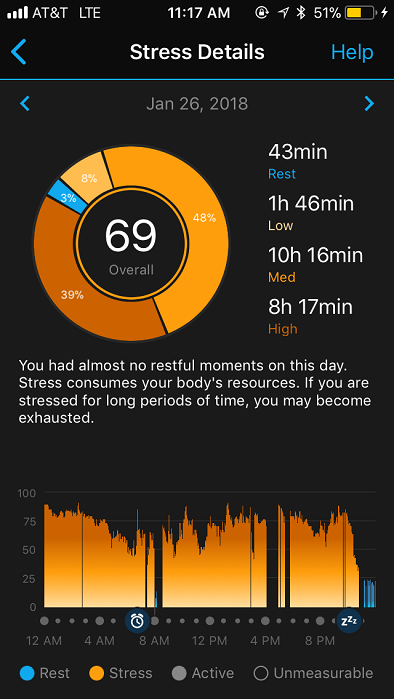 All-day Stress Tracking - App View
You most likely experience stress at some point in your day, but how much? Your Venu lets you know when you are having a calm, balanced or stressful day and everything in between. Tracking your HRV (the time interval between each heartbeat), Venu calculates and displays your stress level. There's also an optional 'Relax Reminder' feature that you can turn on in the Garmin Connect app. If your stress level gets elevated during your day, it will provide a vibration alert on your wrist and display a message ("Take a moment to breathe?") to let you know it's time to relax.
In the Box
Garmin Venu 2 GPS
Charging/data cable
Documentation